Many would agree that the best way to spend a December holiday is on a warm sunny beach. So we've put together a few tips on how to have the most fun possible when you're enjoying the golden sand and warm water this December. From what to read, how to make yourself as comfortable as possible, fun for the kids, and what to do if the heavens decide to open up and it pours with rain. These tips will have you covered.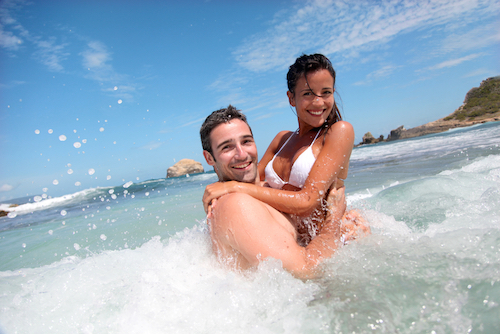 Safety first
The sea is unpredictable and if you're anywhere near it; you should always keep an eye on what the water is doing. Always swim where there are lifeguards and listen to their instructions.
Make sure you use loads of suntan lotion. Don't worry, over time you will get a tan, but tanning slowly is better than getting crisped on your first day. You'll look ridiculous and will be in agony for the rest of your holiday.
What to pack
Besides the obvious, like a pair of slops, costumes, suntan lotion and towels, there are a few other items you should take along to make your time on the beach even more exciting and comfortable. Take a look at this checklist and make sure you have it all for the most fun you can have on the beach:
Umbrella or Gazebo – for shade
Large spade – to dig a back-rest, large hole to protect you from the wind, or to dig a fire pit for those late afternoons and early evenings on the beach
Beach blankets and sleeping bags – to sit on or to have a nap on the beach
Camping chairs - for Gran and Gramps
Cooler boxes with dry ice (it lasts longer) – fill the coolers with food, drinks and ice cream for the kids
Skim boards, body boards – don't let the kids have all the fun - hit the water with them and ride a few foamies
Mask, snorkel and fins – if there are rock pools you'll want to see what's going on underneath the water
Bucket and spade, kids fishing nets, and beach balls – they're always popular items to take along if you have little ones.
What to read
Finally you have some time to pick up a good book and read more than two pages before you pass out after a long day at work. There's nothing more relaxing than enjoying a good book on the beach. So take a look at some of these great reads to get stuck into this holiday:
The Sunlit Night by Rebecca Dinerstein is a romance novel with an appealing twist.
At the Water's Edge is Sara Gruen's new novel. If you enjoyed Water for Elephants, you're sure to enjoy this one too.
The Outliers by Malcolm Gladwell is an inspirational book about achieving success
Live at the Brixton Academy by Simon Parkes with JS Rafaeli is about the tumultuous life of the music business
On Writing by Charles Bukowski is a fascinating collection of correspondence between the writer, his publishers, friends and other writers between 1945 and 1993. If you know Charles Bukowski, you'll know why this will be a great read!
Oh no, it's raining
So, go swimming! Unless it's howling gales and pouring down, you should definitely still go for a swim in the rain. It's a great experience, and after all how often do you get to go to the beach? But if that's not quite your thing, avoid the shopping malls and rather play board games, read your book, bake or cook something delicious. If you're in the middle of nowhere, these are pretty much the only options you'll have anyway. However, if you're near a city, have a chat to the locals and find the best eating spots, sightseeing trips or local hangouts.
Enjoy your time on the beach, and let the ocean wash away your worries. A daily swim in the sea does wonders for the soul, and with these tips, you're sure to have the best beach holiday ever. So don't forget the sun cream and try something new on the beach this holiday. Speak to your Flight Centre Consultant about the incredible beach holiday's we have available for you this festive season.
Other Travel Articles You Might Like...