I'm sure when you hear the name Jamaica; you just think of the beach, white sand and that cool breeze right? Good, but shame on you for thinking Jamaica has only the beach to show.  See the list below and you'll look at Jamaica differently.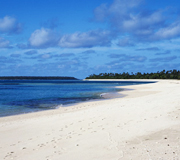 Hooves Jamaica:  How romantic would it be if you were to go horseback riding on the beach?  Go to Jamaica and you will.  This is a guided tour on the island, and an unforgettable experience.
Mayfield Falls:  Here's another one for the lovers out there, visit the Mayfield Falls… These are some of the most beautiful waterfalls, and large quantity of ferns and other plants and loads more!
White Witch Golf Club:  If golf is one of your favorite sports, then you'd only be honoured to have the chance to golf at White Witch Golf Club.
Mountain Climbing and Hiking:  Climb up Jamaica's Blue Mountains, follow the trails with a professional mountain climber.  From here you'll stand witness to breathe-taking misty forests and loads more!
We at Flight Centre have a variety of Jamaica packages to offer and can organize that Jamaica holiday adventure to the very last detail. Find your Jamaica holiday package day, call Flight Centre on 0860 400 727 or see what we currently have available on our USA & Canada  page. Want a more personal touch?  Then forward an enquiry and a friendly Flight Centre consultant will contact you within one working day