During the month of November the hairy (and not so hairy) boys at Flight Centre (and some of the girls) will participate in MO-Vember - a fun, fundraiser for Male Cancer awareness.
It's all very simple. Guys start off with a clean shaven face at the beginning of the month and grow a funky Mo (moustache) to show off come the end of November.  Along the way they (and their Mo-sista's) get involved in raising funds for CANSA. You can host a party, auction off your 'mo to the highest bidder or donate the cash you've saved on shaving cream and blades (a small fortune) to CANSA.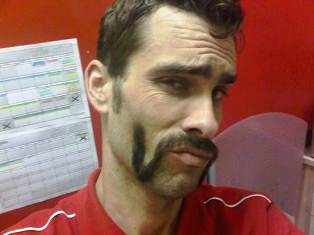 Flight  Centre South Africa will support this initiative by donating R100 towards CANSA for every male staff member who enters the Mo-Vember for charity. And various depart
ments will be onboard issuing challenges to suppliers, clients and friends. The faux-mo's (girls at Flight Centre) will not be left out of the fun as they will assist in raising funds along with their hairy brothers.
Want to join in on the fun - then look up "Flight Centre" on the site www.movember.com and join our crew or start your own team.
"Fab and furry – a fabulous 'mo from
the 2010 Movember fundraising drive"