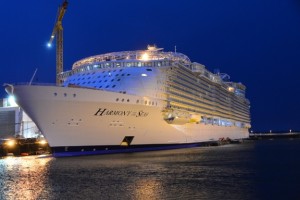 The world's largest cruise ship ready for its first journey ... and it is HUGE!  At a length of 362m, it's 62m longer than the height of the Eiffel Tower. It's 70m high, has a maximum width of 66m and weighs 227 000 tons. It boasts the world's tallest waterslide and deepest swimming pool at sea, thousands of trees, a zipline and a bionic bar.
Harmony of the Seas, the world's largest cruise ship, is set to depart on its first journey in May 2016.
Seven neighbourhoods
Harmony of the Seas is not only huge; it's also an astonishingly innovative adventure ship. The almost 5 500 passengers will be able to take a stroll through seven unique neighbourhoods: Central Park with its 12 000 trees and plants; the Royal Promenade with its bionic bar where robot bartenders will prepare your cocktail; the Boardwalk with its carousel, arcade and high-dive shows into the deepest pool at sea; the Pool and Sports Zone with its five waterslides, a rock-climbing wall and zipline; the Vitality Spa and Fitness neighbourhood; the Entertainment Place with its Vegas-style casino; and the Youth Zone where children of all ages can hang out.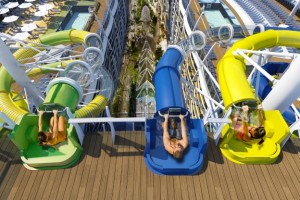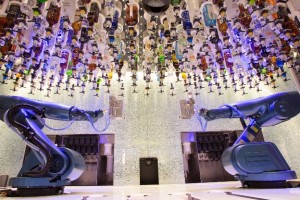 Adventure activities
There's more than enough to do for adventurous watersports enthusiasts. Go down the 10-storey-high Ultimate Abyss, the tallest waterslide at sea, or try out the three multi-storey spiral waterslides – Supercell, Typhoon and Cyclone – together aptly called The Perfect Storm. Thanks to the high-speed Voom Internet service, the fastest Internet at sea, you can share every moment with not just family on board but friends back home.
Royal iQ app
With all Harmony of the Seas has to offer, the Royal iQ app comes in handy. Downloadable for iPads, iPhones and Android phones, and available at iQ stations around the ship, Royal iQ gives you the flexibility to decide what to do and when to do it. Book your shore excursions, reserve your evening entertainment, manage your dining reservations, schedule your times for on-board activities, and modify existing reservations.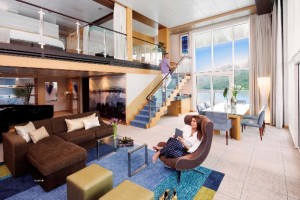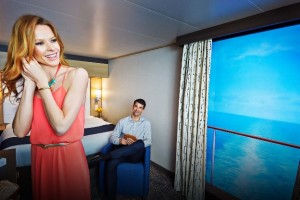 Radio-frequency identification (RFID) WOWband
WOWbands are used to enter your room, purchase beverages, merchandise and anything else Royal Caribbean sells. This means you won't need cash or credit cards because all charges go straight to your account.
 Suites
The Harmony of the Seas Royal Suite Class means luxury at sea like you've never seen before. There are three tiers of suites – Star Class, Sky Class and Sea Class – that have been designed to rival those of the very best hotels. If you book in Star Class, the most luxurious of the three, you can expect an in-suite dining and coctail service, a mini-bar with complimentary refreshments, complimentary fitness classes, a welcome gift and much more.
Enjoy stunning ocean and port vistas from the comfort of your interior stateroom, thanks to groundbreaking virtual balconies – LCD screens that stream real-time footage of the view from the deck directly to your room.
Destinations
Harmony of the Seas will take passengers to several spectacular destinations, mostly in the Caribbean and Mediterranean. Explore the beautiful beaches of Palma de Mallorca in Spain, the museums and cathedrals in Florence, the castles and artworks in Naples, and much more.