Months ago I updated our Flight Centre status with the following "Please give me your TOP 5 Must have gadgets when travelling! iPod maybe?" The response was great! What I realized was that; everything that starts with "i" is a must!  My research didn't stop there, I read few articles, asked people and yes, anything with an "i" still goes.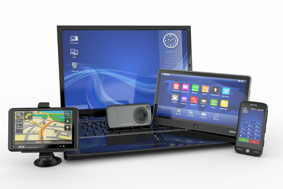 We hardly ever think about the essential "digi" gadgets that could make our travel experience more convenient.  I have divided travel  gadgets into two groups, gadgets thought necessary while travelling to your destination and gadgets for when you have arrived at your destination:

"To" Destination Gadgets:
Mp3 player – no need to hear babies crying, let your music take you to a world of serenity
Laptop – depending on the airport you're in, you might have access to free Wi-Fi
iPad – it can connect to the Internet anywhere that has Wi-Fi and the high battery life is convenient for those long haul flights
Electronic Massager – If you're flying economy, this is a must!
Grid it – this is a mini gadget holder, with a weave of rubberized elastic bands, every gadget you have will be in one place, visible and nicely packed
"At" Destinaton Gadgets:
Camera  / Video Camera – yes you want to capture most of your travel moments!
iPad or iPhone – you might need directions (multifunctional gadget) – just be aware of roaming costs when you're out of the country
GPS - this will come in handy if you do get lost
International Plug – to charge all your electronic gadgets, this is a much needed gadget and one to pack in first
Are you travelling abroad? What gadgets have made life easier for you in your travels?
Happy Travels!