South Africa is a diverse country with much to see and even more to do. Every corner of our beautiful country has something that is unique to that specific place. Take Cape Town for instance. Nowhere else in the world would you be surrounded by such splendid natural beauty that is Table Mountain whilst driving around the city centre.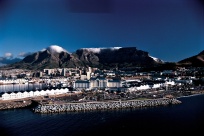 Now compare this beauty with that of Durban's and you will find that although both are cosmopolitan cities in South Africa, they differ a lot with their unique blend of natural beauty, culture, history and overall atmosphere. It soon becomes evident that if you are looking for a travel package in South Africa  you might face quite the challenge in deciding where to go.
This is where our Flight Centre consultants' travel experience will be very useful to you. From the travel experiences of our own consultants we can create special travel packages that includes only the most striking areas of the country.
Combine this with a number of activities that includes such things as meals and outings like game drives or bungee jumping and you can be certain that our travel packages are perfect. Now all you need to do is decide which travel package in South Africa you'd prefer and we'll take care of all the rest.
For more information on our travel packages or if you would like our consultant to create a tailor-made travel package in South Africa for you simply contact us today and one of our professional travel consultants will assist you.
Happy Travels!