It's South African National Parks Week and that means free entry to almost all 21 national parks across South Africa! Started in 2006, SANParks week was created to help locals on a budget explore all the natural beauty our country has to offer. This year, SANParks Week takes place from 8 to 15 September. We've put together some fascinating facts to get your SANParks week off to a great start.
1. The best things in life are free
Not only do you get free entry into almost all 21 SANParks across the country, you can also get up to 40% off accommodation and camping when booking online.
2. A new theme every day
This year's SANParks week has a theme for each day. Take a look at the table below to see which day is best for you!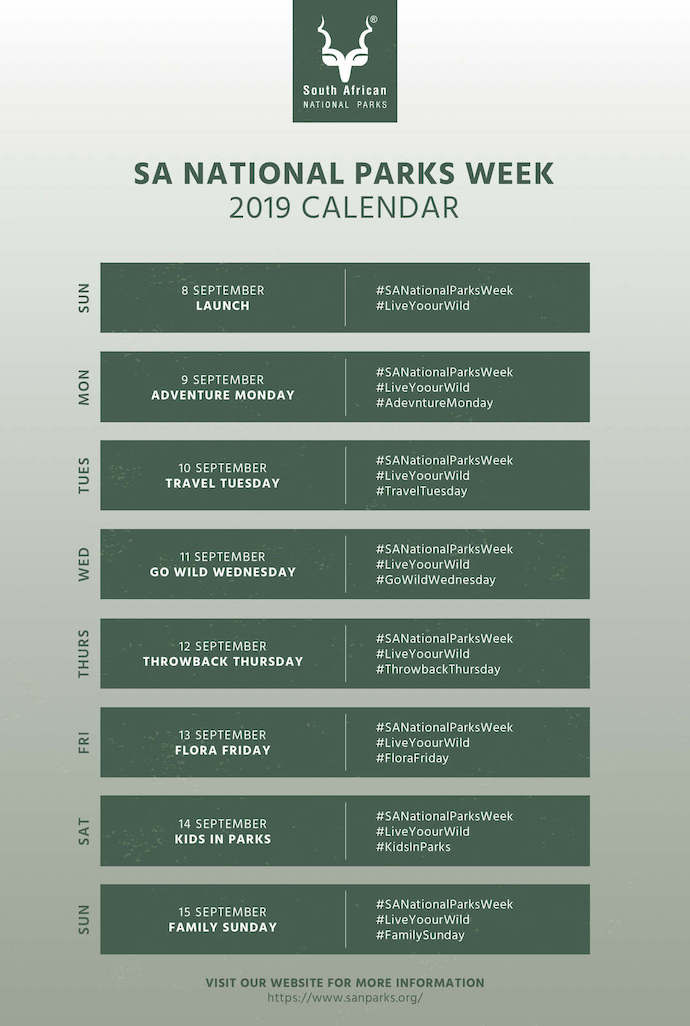 3. A big responsibility
SANParks was formed in 1926, and currently manages 21 parks across 3,751,113 hectares – over 3% of the total area of South Africa!
4. Ready to go wild?
Wild Card Members get one year's unlimited entry to 80+ national parks, reserves and resorts around SA. Membership is valid for 365 days and can be bought for individuals, couples or families. International travellers can also apply for International Wild Card Membership.
5. Plenty to do
Exploring SA's national parks doesn't mean you have to sit in a car all day. Take a guided walk or go horse riding, canoeing, mountain biking, scuba diving and more!
6. Snap and win
There's an annual SANParks photography competition where you can show off your most impressive travel photos. Whether you're using pro equipment or snapping shots on your phone, you can send through your best images to stand a chance to win some great prizes. Enter here. 
7. Go south 
You can stand at the southernmost tip of Africa at Agulhas National Park in the Western Cape.
8. Why Kruger is king
The world-renowned Kruger National Park is not only the best-known national park in South Africa, it's also the biggest (20,000 km2), and the oldest (since in 1898). So it's no surprise that Kruger is one of the most visited tourist attractions in South Africa.
Wondering where to start your SANParks Week adventure? Take a look at this list of participating parks where you can get free entry this week. Or get some inspiration on what to do with this bucket list of SANParks activities here.