There is something to be said about the way a cruise can help you feel relaxed as you sail into the sunset. Cruising has become one of the most enjoyable ways to spend your well deserved holiday. It gives you the chance to sit back and enjoy the finer things in life as you slowly cruise your way to some of the most exciting destinations around the world. Furthermore the cruise liners of today can be described as "floating hotels" as you will have all the amenities that the world's top class hotels have on offer.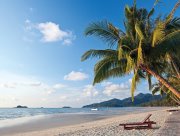 At Flight Centre we have sought out some of the most luxurious cruises available. It all depends on what you desire really. Do you wish to go cruising along the African coast or take to the seas of the Caribbean? Our cruise specials include 4 night European cruises, 7 night Caribbean cruises, 7 night Alaskan cruises, 8 night South America cruises, and many more. Different in time and price we will be sure to have a cruise perfect for you!
If a cruise holiday is on your horizon then be sure to contact us. Our specialised travel consultants will provide you with information on our current cruise specials that have you sailing the seven seas.  And what more is we will be able to help you organise your flights, transfers, mandatory port charges, or anything else you wish to experience during your cruise. Simply allow us to make all the arrangements on your behalf so that you might experience and enjoy the ultimate holiday experience when you go cruising, enjoying the splendour of the seas.
Find your cruise holiday package day, call Flight Centre on 0860 400 727 or see what we currently have available on our cruise page. Want a more personal touch?  Then forward an enquiry and a friendly Flight Centre consultant will contact you within one working day.
Happy Travels!