There's nothing quite like the thrill of racing down a rocky trail, the trees whizzing past on either side, and your adrenalin kicking into overdrive as you manoeuvre through a sharp turn at the bottom of a hill. Enjoying the peacefulness of a country road with majestic mountains beckoning, and rivers inviting you to cross them, is a recipe for an amazing playground for thrill-seekers of all ages. So take a look at these 5 fantastic places to go mountain biking in SA and get peddling, today!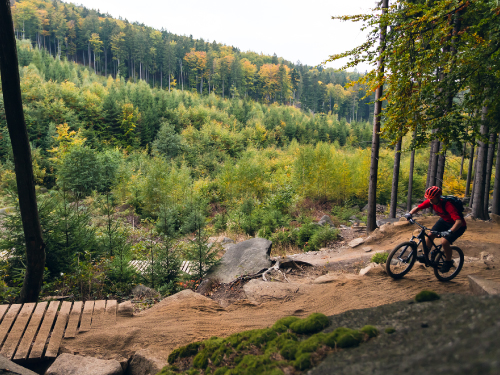 Two Tunnels in De Doorns
De Doorns is a small town in the scenic Hex Valley located in the Cape Winelands. With its delightful country inns, vineyards and snow-capped mountains in winter, De Doorns is a great destination for the whole family, and the mountain biking is top class, too!
Two Tunnels is an intermediate-to-advanced trail which starts and finishes at the Veldskoen Farm stall. You'll climb until you reach the ridge and then take the dip down towards the 1875 railway line. From here you make your way through a railway tunnel before reaching some fair terrain via Kranskloof, Scooby Doo and Osplaas before reaching the farm stall again.
Van Gaalen in Magaliesburg
Van Gaalen Farm is at the foot of the breath-taking Magaliesberg mountain range, and is a cheese making farm which has also added small cottages for accommodation. You will also find a farm stall with loads of delicious cheeses, wines and souvenirs. The farm has developed a number of trails for mountain biking which range from intermediate to extreme. The trails will take you across streams, ridges, bushveld and over grasslands with miles and miles of nothingness. The riding loops are all connected with some challenging terrain, and offer you the chance to ride on nearly 100km of track which is spread out over 10 farms.
Giba Gorge in KZN
Giba MTB Park in KZN is just on the outskirts of Pinetown and offers exciting fun for the whole family. With waterfalls, streams, and exceptional trail options, you can get on your bike and practice your skills, or test your limits. With varying trail options depending on your skill level, this is a great place to get on your bike and have a great day out in the wilderness with friends and family.
Mankele MTB Park near Nelspruit
Mankele MTB Park is situated near the Sudwala Caves in the Nelspruit region. You can book a comfortable log cabin, stay in their tented camp or pitch your own tent in their lush, green camp sites. The park offers riders moderate to very technical trails with an easy 4.5km route right up to the difficult 55km route for more advanced and adventurous riders. With great accommodation, exciting activities in the area for the whole family and some excellent MTB trails, this is a mountain Bike experience not to be missed.
Majik Forest in Durbanville
Although nestled among residential and built-up areas, and although The Majik Forest MTB trails are also shared with hikers, it is a very convenient location to get on your bike for some thrills and excitement. The trails range from 2km to 15km making it the perfect place to try your hand at the sport, get some training done, or loosen the breaks and get the adrenalin pumping. The trail has some steep climbs, but what goes up, must come down, and therein lies the excitement.
South Africa is blessed with a beautiful countryside, incredible mountain ranges and glorious rivers, making it a fantastic country for this ground-breaking sport. Pack up the family and head out to one of these fun-filled mountain biking trails and explore the surrounding areas for a memorable family experience. Speak to your Flight Centre consultant today about flying with your bike, or how to book holidays in these incredible local destinations.
Other Travel Articles You Might Like...