The Republic of Indonesia is a country situated is Southeast Asia and Oceania and is comprised of 17,508 islands. Bali and Bintan Island are filled with wonder, unbelievably beautiful landscapes and incredible environments. Here are a couple of travelling tips and interesting facts to know about each island individually, enabling you to make an informed decision on choosing one to holiday at first;
Bali;
Bali's fauna and flora is as fascinating as the island itself. Despite the captivating sights of the barking deer, monkeys and civets is also boasts with 300 species of birds, including the unique Balinese Starling. For wildlife lovers the mountain treks is the perfect way to admire the active volcanic activities close range and also all the surrounding vegetation and wildlife.
The Balinese culture has been heavily influenced by both the Chinese and Indian cultures, so to experience the true sensation of Bali, try to make time to visit all the temples, palaces and monuments whist you're there. Some of the most popular tourist attraction not to miss includes the Goa Gajah cave temple, Puri Agung Karangasem Palace and Taman Ujung.
With a holiday to Bali you have the opportunity to go diving and snorkelling at some of the most famous diving spots worldwide including Tulamben, Amed, Menjangan and Nusa Penida. Some of the marine life you can expect to admire is the hawksbill turtle, giant sunfish and giant manta ray, bumphead parrotfish and hammerhead sharks.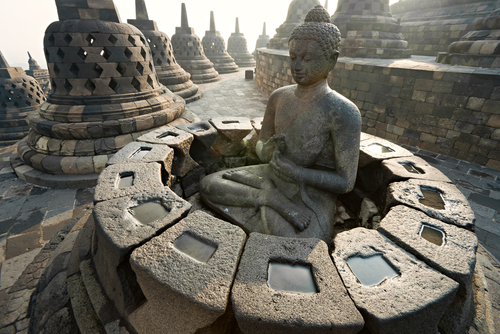 Bintan Island;
The island has 1866 square kilometres of fascinating land for you to explore and discover, with loads of beguiling sights to see and mesmeric landmarks to admire.
The island is comprised of a population on various ethnic groups including Javanese, Sundanese, Madurese, Malay and others (26%). It offers you the opportunity to expand your general knowledge by mingling and interacting with the locals, getting to know their culture and living circumstances.
A holiday in Bali or Bintan is guaranteed to provide you with an unforgettable stay, unbeatable sandy beaches and breathtaking landscapes. For more information on rates and availability be sure to forward an enquiry & a friendly consultant will contact you within one working day.
Happy Holidays!