Is there a better way to melt the heart of a loved one, than to surprise them with a romantic weekend away or day trip to somewhere special? Take the opportunity to make this day, the day when you make everything about the other person. Surprise your other half with a packed bag, cooler box and picnic basket and head off for a weekend at the beach, in the berg or in the bush. Or think about it, what would be the perfect gift to wake up to on Valentines morning? Accompanied with breakfast in bed, or a romantic dinner for two, you present a surprise pair of air tickets to an exciting destination.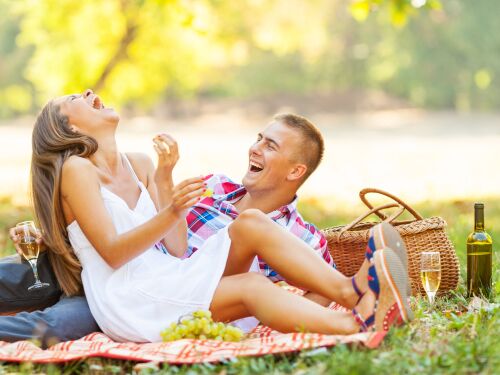 Beach scenes
South Africa is blessed with 2500km of breath-taking coastline. Rugged cliffs rise up to greet beautiful forests, long stretches of empty, sandy beaches and magnificent tidal pools merge perfectly with calm protected bays. The opportunity for romance has no bounds when you set off to explore the beaches of South Africa.  Prepare a delicious picnic basket and head to the beach, where whispered sweet nothings disappear with the sound of breaking waves, and messages in the sand last just long enough before being washed away by the incoming tide.
Valentine's in the bush
Most towns and cities in South Africa are a short drive from beautiful game reserves and natural bush experiences. Book a weekend away and relish the freshness of an early morning in the bush. Open your bedroom doors and feel the cool morning breeze wash over you as you lay in bed with your loved one, and listen to the sounds of nature bustling around your cabin. Enjoy an exciting game drive before relaxing with a drink and a log fire as the golden African sun sets behind a silhouette of hills and trees.
Mountain views
Take a drive into the mountains for a peaceful retreat, where grand rocky peaks touch the sky and tower over your cabin. Set off early and hike your way into the hills, take a dip in a natural rock pool and sit peacefully with your loved one at the top of a mountain and admire the breath-taking views. A refreshing afternoon thunderstorm in the mountains is the perfect opportunity to snuggle up under the covers and listen to the rain, before lighting a fire and relaxing as the sun's final ray's break through the clouds and shower the mountains in a golden light.
Wine Routes
It's no secret that South Africa has some of the best wine in the world, and what could be more romantic than staying in the heart of the Cape winelands? After a hearty breakfast, head off into the scenic hills and fields of grapes, where top class restaurants, unique farm stalls and of course delicious local wine awaits. After a long day on the road, settle in with a bottle or two of your favourite wine from the day, and talk all night with your loved one as the cape stars cover the sky and set the stage for the perfect romantic night together.
The perfect Valentine's gift
There's nothing quite as exciting as holding a plane ticket in your hand! Why not surprise your Valentine with a promise? A promise of adventure, a promise of fun and excitement, a promise of new discoveries and wonderful memories. Surprise your loved one with a pair of air tickets to your favourite local or international destination, and wait for their face to light up with happiness. Is there a better way to show your love for someone, than wanting to spend exciting and fun-filled times with them?
Make this Valentine's Day extra special with the help of Flight Centre. We have loads of self-drive and 2 night deals including flights to beautiful destinations in the bush, at the beach or in the berg. So contact your Flight Centre Consultant today for the best Valentines Day you could imagine.