When you have young children it can be a major outing simply taking them to the supermarket. You need the stroller, the bag with nappies, snacks, toys to keep them entertained etc. So what can you do to ensure that a trip abroad is a successful and happy family experience? We've put together 8 tips that may help the family holiday go a little smoother this winter.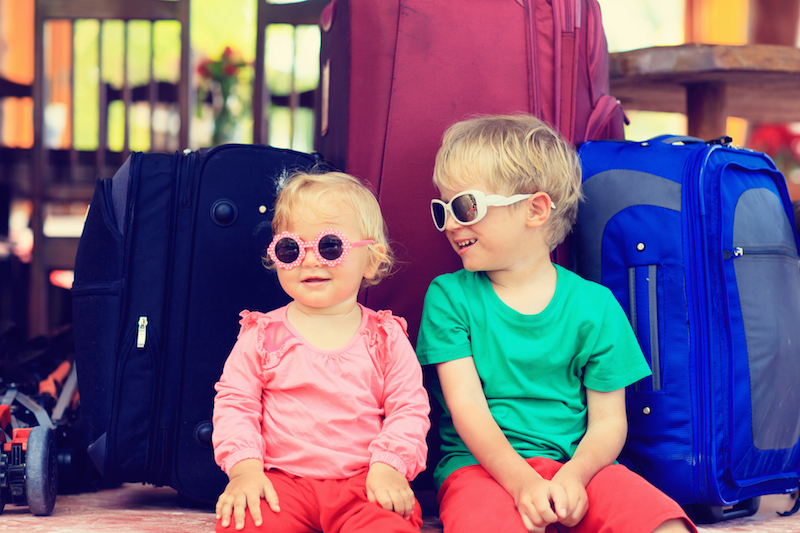 Time and Patience
Travelling abroad with children will probably test your patience more than once. Stay calm, take everything in your stride and realise that it's all part of the travelling experience. It will be well worth it when you arrive at your destination and see the excitement on your children's faces. Make sure you plan for extra time when getting to the airport, for your connecting flights, and even in the mornings before you head out for the day. This will ensure that you are more relaxed, with the knowledge that time is not an issue.
Hand them a camera
We're not talking about the brand new Nikon you just bought that cost an arm and a leg. Buy the kids a rugged and tough child proof camera, or give them an old one that was lying around the house, which they can use to observe their surroundings and keep busy with. You never know, you may spark a life-long interest in them as well.
Comfort is the key
Travelling abroad in different seasons to ours means that you have to be prepared for the weather you are leaving and going to, have a variety of clothing pieces handy and layering always helps! By being prepared and keeping them comfortable, there is less chance of them performing in the middle of the airport or at the check in counter.
Keep loads of games and activities handy
Keep a few of their favourite books and games in your hand luggage, or load your phone or iPad with games and activities. Search online for some age appropriate travelling games that you can play with them like I spy with my little eye or tick tac toe. You may find that you'll be waiting around quite a bit, and this is the most 'dangerous' time for a child's wandering, busy mind. If they're not entertained, you could be in for a rough time.
Get them to keep a diary
Another way to keep your children occupied is to get them to keep a diary of the places they visit and the things they see. If they aren't old enough to write yet, give them a blank book and get them to draw pictures. Not only will you be engaging their minds, but they will be busy, and you will have a nice little memento from your trip.
Keep track of your child
There will be nothing more stressful than losing your child in a foreign country. So consider investing in a child locator which can be strapped to a belt while you keep hold of the responder. If your child wanders off, you can push a button, and an alarm will sound from the device. You can then follow the sound of the alarm to where your child has wandered off to. Another method is to write your phone number on your child's arm with a permanent marker or on a band they can wear around their wrist. This will ensure you are reachable should someone find them exploring on their own.
Get them excited before the trip
This may work especially well if you have older children. Get them involved in the planning of the trip, ask them what they would like to do or see when you arrive, get them to create their own little bucket list and see what is achievable. This will increase the excitement and instil a feeling of inclusion in them, which may be very important for a difficult teen. Before you go, get the children involved and explore the area you will be visiting. Use a globe atlas, Google Maps and even encyclopaedias (or Google) to learn more about the places you will be visiting.
Get to know your destination before arriving
If you are already familiar with your destination, not only will it save you time, but you will also be able to focus more on ensuring the children don't wander off. Ensure you have an understanding of how the public transport system works and pre-book tickets if you can. It may also help to be familiar with certain street names before you arrive. This will help you orientate yourself more easily and will go a long way in becoming un-lost again, should that happen.
Gone are the days of travelling with spontaneity and moving around freely. With your children in-tow, you travel adventures have entered a new era. Travelling with children can be just as rewarding and fun, although possibly more challenging. However the excitement and smiles on their faces while they are having the time of their life will make it all worthwhile.  Speak to your Flight Centre Consultant today to plan your next family winter holiday!
Other Travel Articles You Might Like...