What does summer mean to you? Is it a time to lounge around the pool, braai every day and spend quality time with family and friends? That sounds great, but what about hitting the road or the airways and discovering the fun of summer with your family or friends in a completely different destination, like Hermanus, Thailand, Zanzibar or even the Maldives?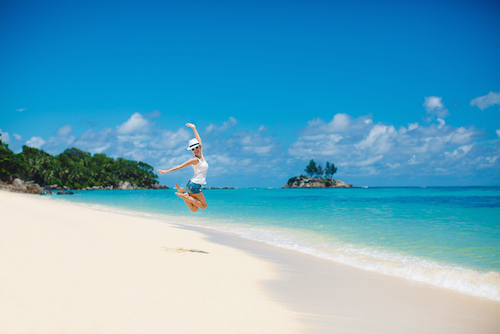 Hermanus
Stay at the African Pride Arabella Hotel & Spa, which is one of the top spa's in the world. You'll be completely relaxed and ready to explore the beauty of Hermanus with its hikes, beaches and amazing restaurants. Hermanus is also home to one of the top 5 golf courses in the country, so don't forget your golf clubs!
Kruger National Park
With a good chance of spotting the big five and Africa's other amazing family of wildlife species, the Kruger National Park has always been one of the top places to visit for wildlife enthusiasts. With Flight Centre you can stay at the 5 star Jock Safari Lodge which is situated on 6000 hectares in the south western corner of the Kruger National Park. The lodge's name, as you may have guessed, was inspired by the heart warming and proudly South African story about the famous Jock of the Bushveld.
Khao Lak
Thailand is a fascinating country to visit and has some of the most exceptional beaches anywhere in the world. In Thailand you always feel welcome and will love the food, culture and various activities for young and old. If you're not having fun in Thailand, you're definitely doing something wrong. Stay at the 4 star Centara Seaview Resort which is on the beach and set on a large piece of land with a lagoon and scenic gardens for guests to enjoy.
Zanzibar
Tropical perfection can be found on our very own continent on the Tanzanian island of Zanzibar. The island is surrounded by fine soft white sand, beautiful swaying palm trees, and warm crystal clear water that will wash all of your worries away in no time. The island is characterised by its Swahili and Islamic trade history with 19th century landmarks and fishing ports. Stay at the 4 star Uroa Beach hotel and relish your time spent on the islands perfect sunny beaches.
Koh Samui
Imagine an island filled with dense rain forests and mountains and fringed by picture perfect beaches with luxurious hotels and exciting water activities for the whole family. Spend your days relaxing in the warm sea that makes up the Gulf of Thailand, have a nap under a palm tree, or have some fun parasailing, snorkelling or checking out the local attractions. Stay at the 4 star Chaba Cabana Beach resort with its landscaped gardens and white sandy beach for the holiday of a lifetime.
Maldives
The Maldives is a collection of 26 coral atolls in the Indian Ocean with exceptional snorkelling and scuba diving. There is also a host of other water activities for visitors, including skiing, windsurfing, surfing, canoeing and more. You can even hit a few golf balls at the driving range. A holiday in the Maldives is the beach holiday to end all beach holidays with natural perfection around every bay.
The white sand, majestic palm trees and crystal clear, warm sea water all make for the perfect surroundings for those who want to relax as much as possible. With Flight Centre, after transferring to your accommodation from the airport with a 55 minute speedboat ride, you can stay at the 4 star Meeru in a villa on the small island of Meerufenfushi.
Cape Town
Who doesn't love Cape Town? And if you haven't been yet, you surely will too. The city of Cape Town and surrounds offers visitors the perfect holiday, with its scenic vineyards and wine tasting venues, its exceptional beaches, and great hiking spots.
The vibey Long Street in the heart of the city is a great place for bars and restaurants, and the V&A Waterfront is also an interesting place to visit for upmarket dining and shopping.
A tour to Robben Island is a favourite activity with visitors and offers a fascinating look into South Africa's past.
Another Cape Town favourite, is of course the chance to explore the dominant presence of Table Mountain as it towers tall and proud above the city. Spend the day hiking up the magnificent mountain face and explore the table top, or take the convenient cable car and savour the views of this great city.
Flight Centre offers a number of great summer deals for accommodation and flights to your new favourite South African city.
Seychelles
A collection of 115 islands with perfect coral reefs, perfect beaches with the trademark psychedelic rocks, nature reserves and rare wildlife, is what is waiting to greet you when you decide to spend your summer holiday in the Seychelles. Explore the nature reserves, go abseiling, snorkelling, diving, kayaking, parasailing and so much more in breath-taking tropical surroundings, or simply relax in a hammock - perfectly positioned between two palm trees, and watch the world pass you by.
With Flight Centre you can enjoy a fantastic summer deal and stay at the 3 star Berjaya Beau Vallon Bay which also offers deep sea fishing, diving and paragliding.
Flight Centre has put together some exceptional summer deals, to ensure you have the most fun possible on your next holiday. Explore these exotic locations with affordability and in comfort when you book your next summer holiday with Flight Centre. Contact your consultant to find out about these and other great summer deals on offer.
Other Travel Articles You Might Like...