Forget those bland and stereo-typical hotel stays and deliver yourself from the mundane with a hotel experience that may as well be out of this world. From Capsule Value, Kanda in Japan, to Poseidon Undersea Resort in Fiji, these hotels will blow your mind and stretch the limits of your imagination with an experience that won't be forgotten any time soon.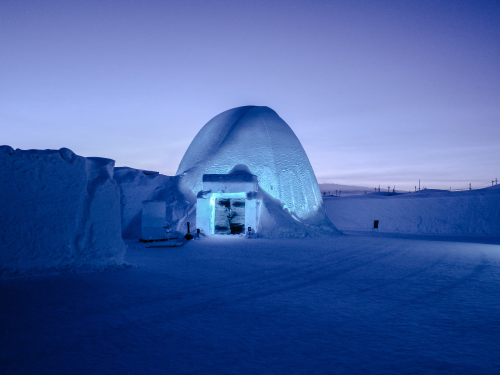 Propeller Island City Lodge, Berlin, Germany
With 30 rooms, each with their own unique character, the Propeller Island City Lodge was designed by a German artist with wildly extreme ideas. You can choose to stay in the mirror room which as you may have guessed, is completely lined with angled mirrors. Or maybe you've always wondered what it would be like to spend some time in a padded cell or even a coffin? Maybe not! But if you want something completely zany and off-the wall, this is the hotel for you!
Capsule value Kanda, Tokyo, Japan
You may have heard about them at airports around the world, but the Capsule value Kanda hotel in Tokyo offers guests a bare minimum, cost saving option for some very basic accommodation. You basically pay for a bed, and that's it. Don't worry you will have your own privacy, as each bed is enclosed in your own pod. This is definitely not for those who get a little claustrophobic, that's for sure.
Poseidon Undersea Resort, Fiji
The Poseidon Undersea Resort will be the first completely underwater hotel in the world. It will boast spectacular underwater views and is sure to make you feel as if you are submerged in a massive fish tank. Although not completed yet, there are an estimated 150 000 people who have already registered to be notified when bookings open for the venue.
The Manta Resort, Pemba Island, Tanzania
If the idea of being completely surrounded by crystal clear, warm tropical water appeals to you, then the underwater room at the Manta Resort in Pemba is just the place for you. With the bedroom completely submerged, you will relax completely as marine life slowly swims past your glassed walls. The upper decks are perfect for catching some sun, star gazing, enjoying the 360 degree sea views and unwinding on your own private island villa!
Free Spirit Spheres, Vancouver Island, Canada
Immerse yourself completely in Vancouver Island's forests with a stay in hand crafted spheres which are suspended among the treetops. Comfortable and cosy, the spheres include double beds and other basic amenities for a simple relaxed visit in this extraordinary setting!
Hang Nga Guesthouse, Da Lat, Vietnam
Definitely one of the most unusual hotels you will ever come across, Hang Nga Guesthouse, or more commonly the Crazy house, gives you the experience of living in a tree, not on or around, but actually inside. Each room is like a fairy tale with cosy interiors, modern amenities and all the creature comforts one would need.
Ice hotel, Jukkasjärvi, Sweden
Staying in an ice hotel doesn't necessarily mean you'll be sleeping in sub-zero temperatures every night. At the Ice hotel, Jukkasjärvi in Sweden, you can spend one or more nights in the freezing ice rooms, and for the rest of your stay you can enjoy the warmer temperatures of the other rooms. This is especially comforting after a long day of skiing, dog-sledding or snow-mobiling. You can also relax with a drink in the ice bar, or take a tour of the hotel which is basically hand crafted each year.
Take your travelling experience to a whole new level with one of the world's most unusual hotels. These destinations are spectacular enough, but throw in a fascinating hotel experience and you have the recipe for a winning holiday! Contact your Flight Centre Consultant today to find out more about how you can visit these fine hotels.
Other Travel Articles You Might Like...