From rare birds to naughty plants, underwater post offices and tiny frogs, Seychelles has quite a few attractions and experiences that will make you sit up and take notice. Spruce up your 'boasting' book and add some of these once-in-a-lifetime sights to your bucket list.
1. Discover unusual and naughty plants
Seychelles has some of the most unusual plants growing on its shores. The best known of these unusual endemic plant species is the Coco de Mer, an enormous palm species, capable of growing up to 100 feet tall. This peculiar plant only grows on Praslin and Curieuse Island.
Are you not really a botanist at heart? The Coco de Mer intrigues everyone with its exotic and pretty scandalous reputation. When sailors first arrived in the Seychelles they were met with what look like giant female rear ends hanging from the lush palm fronds. These "love nuts," as they were called, instantly became a commodity. They are considered an aphrodisiac in Asian cultures and the Europeans thought they'd stumbled upon the original forbidden fruit in the Garden of Eden.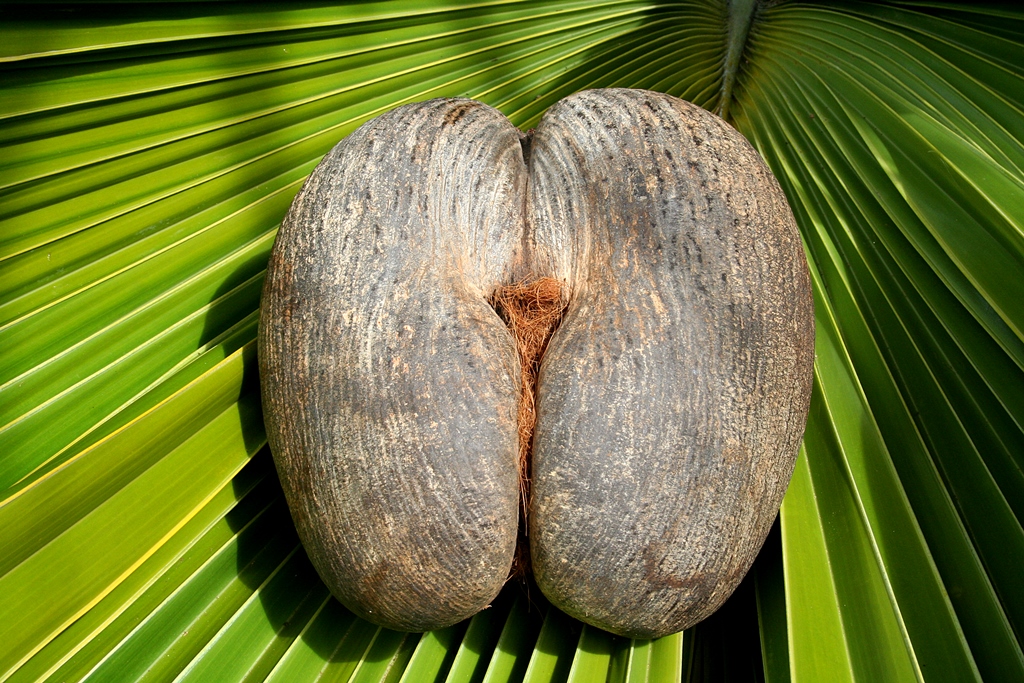 2. Go hunting for the world's tiniest frog
Not easy to spot, the Gardiner's Tree Frog measures about 11mm in length, making it fit comfortably on your fingertip. This little frog is endemic to the Seychelles, as its other common name (Seychelles frog) suggests. In colour, it is green to brown, and has a distinctive dark band extending from the mouth and below the eye to the hind legs.
If you're lucky, you'll find this little frog on one of the Mahé hiking trails. So, watch where you step if you go hiking, as this frog spends most of its time on the ground in the jungle.
3. Pet giant tortoises and sea turtles
Who doesn't want to pet a giant tortoise? Despite having their population diminished, these friendly giants are perhaps the most notable of the land animals in the Seychelles. They can live well over a century and weigh over 500 pounds, and while they thrive on land, they also swim extremely well.
For a truly unique experience, spend the night at one of the hatching sites around Bird, Praslin and Mahé islands. You'll have a good chance of watching a hawksbill sea turtle lay her soft round eggs and cup her flippers to shovel sand back into the hole to cover them.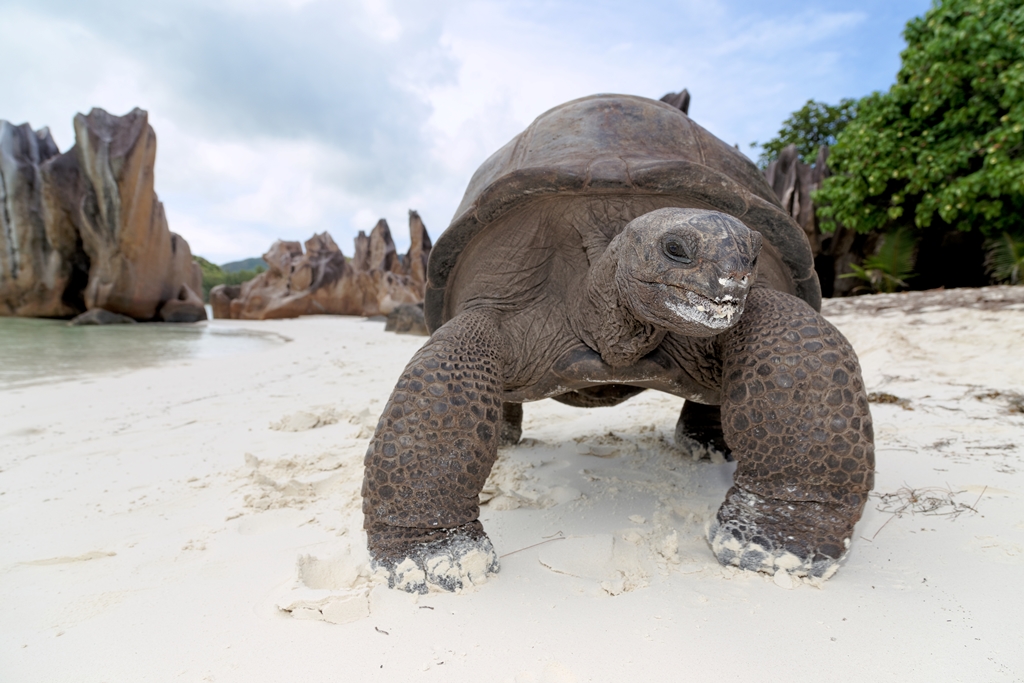 4. Wonder at the granite
The Seychelles islands are the only oceanic islands in the world formed of granite. You'll able to see granite everywhere as soon as you exit the airport. You'll find it on the many cliff faces on the island or jutting up skywards from the beach as massive boulders or even scattered throughout the cities…
Where did all this granite come from? Think back to the time of the dinosaurs. These Granitic Islands are believed to be composed primarily of massive granite fragments of the ancient supercontinent of Gondwana.
5. Post a letter from underwater
When was the last time you send a letter by post? If you want to surprise your friends with an actual letter from your holidays, what better place to post it than the underwater mailbox in Seychelles just off the coast of the Le Meridien Fisherman's Cove hotel in Beau-Vallon Beach?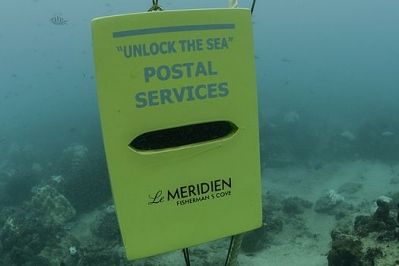 On your way to post your letter, you can also visit the underwater art gallery or participate in the underwater snorkeling trail.
6. Spot the rarest birds
For bird lovers, Seychelles is a true paradise, with the black parrot featuring as the absolute superstar of birds. Praslin is home to the entire Black Parrot population, which ranges between 520 and 900. The Vallee de Mai provides the perfect breeding and nesting grounds for the Black Parrot with its endemic palm forests.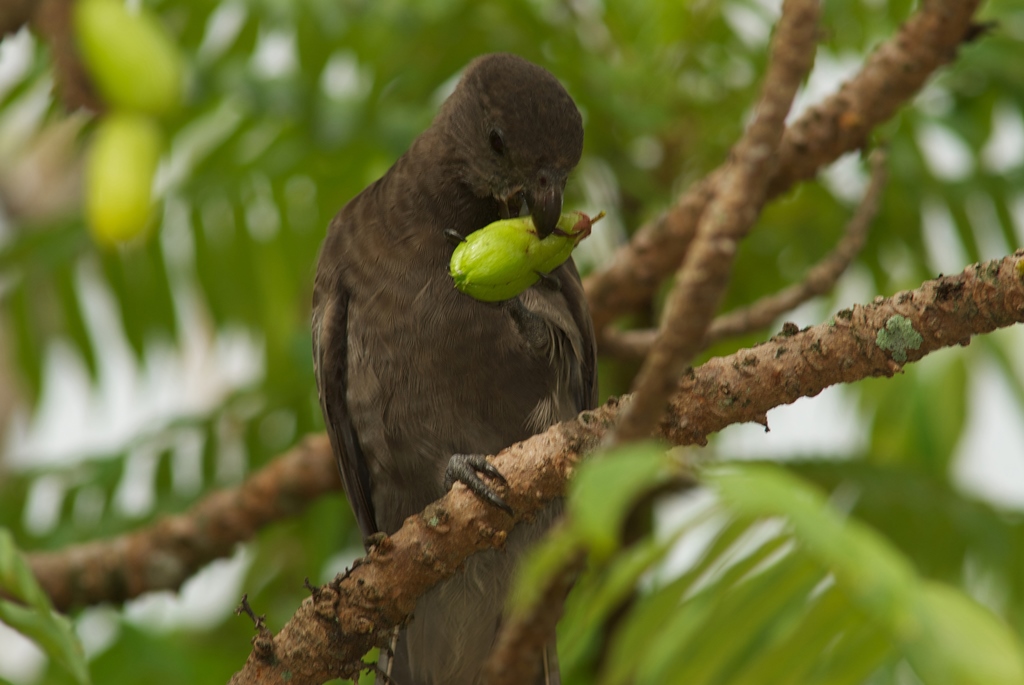 The Seychelles Black Paradise Flycatcher or the Vev in Creole is another bird that you will not find anywhere else on earth.  The Vev thrives in tall forest of native trees especially on the plateau of La Digue. It feeds on insects, flying to catch them in mid-air or pick them from underneath leaves.
The scops owl or Syer is found in highland forests of Mahe, but it is very rarely seen. It can sometimes be heard calling from tall trees, its usual call sounds like a frog or the rasping noise of a big saw on wood, giving the bird its Creole name. The scops owl was thought to be extinct for many years and no one had seen a nest or egg nor knew what it ate, when these were discovered by Nature Seychelles team in 1999 and 2000. A survey by Nature Seychelles found that most of its habitat is now within the Morne Seychellois National Park where it is relatively protected.
To find out more about great deals to Seychelles and other beach destinations click here or speak to your Flight Centre Consultant today on 0877 40 50 00.