Shop the world with us as we explore the expensive designer boutique stores on the streets of New York, Kuala Lumpur and Dubai. We'll also delve into the great deals that can be found in alleyways and side-streets of Madrid before wondering around the bustling markets and speciality stores of Hong Kong. Discover some of the best places in the world to embark on a journey of retail therapy, which is unlike any other.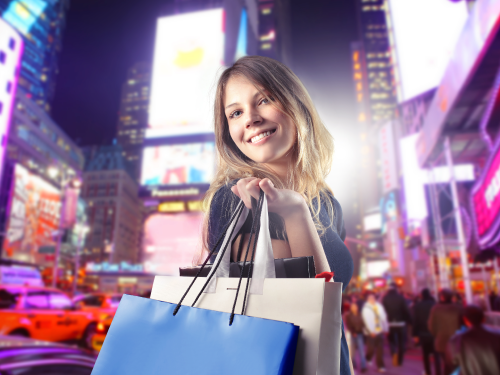 Dubai
Dubai is a young sprawling metropolis where Ferraris line the streets and 5 star hotels are located on every corner. Situated on the shores of the Persian Gulf, Dubai has evolved into a city of 'firsts.' It's the business centre of the Middle East with astounding architecture and world class shopping centres. Some of the largest shopping centres, where you will find just about anything, include: The Dubai Mall, Lamcy Plaza, and the Mall of the Emirates. You will find anything and everything here, including fashion, jewellery, tech gadgets, games and so much more.
Hong Kong
Hong Kong is alive and bustling with high rise buildings, sprawling shopping centres that seem to go on forever, and busy street markets where you can buy everything from a goldfish to exotic fruit, toys and watches, to clothes and Asian trinkets and knick-knacks. Harbour City, IFC Mall, Elements in Kowloon and many more shopping centres offer shoppers a fantastic global experience where you can find anything your heart desires. The IFC Mall is said to have some of the finest restaurants with views over Victoria Harbour. For great deals and an opportunity to test out your bargaining skills, visit Temple Market, Ladies Market (not only for ladies), Seafood Street Market and Stanley Market for a fascinating and exciting cultural and shopping experience. Make sure to wear comfortable shoes because you will be doing a lot of walking!
Kuala Lumpur
Although the skyline of Kuala Lumpur is sprawling with sky scrapers, the building which catches everyone's eye is the Petronas Towers which dominate the horizon, magnificently. Kuala Lumpur, like many other established Asian cities, offers huge shopping centres where you can buy the latest fashion items, dine in sophisticated restaurants, or purchase the latest tech items while also being able to hit the streets and pick up a bargain in one of the many markets. Visit shopping centres like Bukit Bintang and KLCC for fashion, Low Yat Plaza and Berjaya Times Square for gadgets and other 'cool' bits and bobs. Some of the best street markets include, Petaling Street and Central Market.
Madrid
Madrid is one of the most visited cities in Spain with boulevards and beautiful parks, and is also famous for its collection of European art and museums, side walk café's and squares, and of course its shopping facilities. Madrid is a spectacular place to visit with extravagant shopping centres, local markets, and locally authentic family owned stores. Visit the ABC Serrano Centre, Moda Shopping Mall, La Vaguada or Plaza Norte 2 for a 'bigger' and more modern shopping experience, or take a stroll around the streets near Calle Toledo for a more authentic Madrid shopping experience.
New York
One of the largest and most attractive cities in the world, New York boasts an amazing blend of cultures, commerce, industry, entertainment and of course shopping and fashion. Home to nearly 20 million people, New Yorkers have a lust for the finer things in life and enjoy the multitude of upmarket bars and restaurants, peaceful parks and amazing shopping opportunities. In New York there is a variety of shopping centres, streets lined with boutique stores and global name brands, and outdoor markets with cobbled streets and vendors selling everything from fresh food to clothing, and gadgets. Visit Barney's, Bloomingdales and the lavish Gucci, DKNY, Tiffany & Co., and Madison Avenue for a high-end experience or meander through Soho for its markets or the Strand Book Store for a special find.
Some destinations are ludicrously expensive, others offer a sneaky deal if you know where to look, while other destinations require a certain level of caution with their cheap replicas of branded products. Either way, we're pretty sure that if you're looking for the shopping experience of a lifetime, these are the destinations which will set your heart a-flutter! Speak to your Flight Centre Consultant today to find out the best way of getting there.
Other Travel Articles You Might Like...