If you're looking for the height of European luxury and opulence, you need not look further, as we've put together some of Europe's most luxurious and expensive hotels. For some this may be nothing more than an interesting read, however, if you want the best of the best on your next European holiday, take a look at some of these magnificent hotels and get ready to pay up, big time!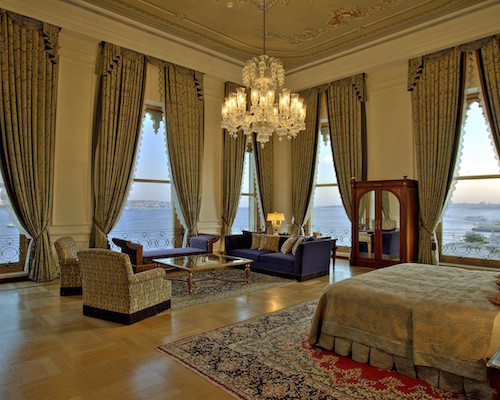 5. Presidential Suite at the Grand Hyatt Cannes Hotel, Martine
With its incredible climate, beautiful beaches and luxurious hotels lining the Boulevard de la Croisette, Cannes in the south of France is a resort town known for its glamour, upmarket boutiques and extravagance. The Hotel Martinez epitomises what Cannes is all about with its breath-taking views over the Mediterranean, exceptional location and 5 star service. A night in the Presidential Suite will cost you roughly R290 000 per night.
4. Suite Cupola at the Westin Excelsior in Rome
Rome is a city of legends, artistic and architectural magnificence, with its street side café's and beautiful attractions. The Westin Excelsior hotel is conveniently located close to many of Rome's highlights, and stands out in the city streets with all of its luxurious glory. The Suite Cupola is the largest suite in Italy and overlooks the Via Veneto. Perched magnificently at the top of the building on the 5th and 6th floors, it offers a viewing deck that provides amazing views of the Rome and offers a Pompeian style Jacuzzi pool, a private cinema and private wine cellar. Although the suite sleeps four people, it will set you back about R334 000 per night.
3. Presidential Suite at the Hotel Cala di Volpe in Costa Smeralda (Italy)
Costa Smeralda is considered a popular holiday destination in Northern part of the island of Sardinia in Italy. With heavenly beaches and crystal clear bays, Costa Smerelda is the gem of the Tyrrhenian Sea. Illustrating the charm of Sardinia, the Presidential suite is decorated with elegance and cultural influence from the area. With local hand crafted furnishings, 3 bedrooms, 3 bathrooms, a roof top terrace with a private swimming pool and breath-taking views over the bay, the height of luxury on the Costa Smeralda will cost you roughly R340 000 per night.
2. Royal Penthouse Suite at the President Wilson Hotel in Geneva
Geneva, situated on the banks of Lake Geneva and in plain view of Mont Blanc is a world-wide hub for banking and diplomacy. With its sophisticated society and beautiful surroundings, Geneva also exhibits French influence in its cuisine, language and city districts like Carouge. The President Wilson Hotel is a convenient 8km from the airport and is situated perfectly with views of Lake Geneva and Mont Blanc. A night in the Royal Penthouse Suite will be charged at a whopping R380 000.
1. Sultan Suite at the Ciragan Palace Kempinski in Istanbul
Formerly a Sultan's palace, the Ciragan Palace in Kempinski, Istanbul boasts magnificent views of the Bosporus Strait. The Sultan Suite is 458 m² and includes historical décor fit for a king. It has large floor to ceiling windows, which overlook the water, and features lounges, king size beds, a Jacuzzi, a 12 seater dining room table and marble and gold plated bath tubs with crystal taps. One night in this type of extravagant setting will cost you a mind-boggling R422 000.
For one night in one of these hotels, you may be able to buy a brand new luxury car in cash; however these hotels are some of the most exclusive hotels in the world and are usually frequented by royalty. If by some chance you find yourself with some spare cash lying around and would like to splurge on your next holiday to Europe, speak to your Flight Centre Consultant about getting you the best deal possible in any hotel you choose.
Other Travel Articles You Might Like...