If you've got itchy feet, we have the remedy to solve all of your problems. With so many destinations around the world worth visiting in 2016, it's difficult to narrow it down and decide which places to visit. So we've done it for you. These five travel destinations will fulfil your wildest dreams and soothe the need to travel the world. From the island paradise of Mauritius, to the hot deserts of Dubai, the city lights of New York, lifestyle in Amsterdam and the wild and exciting culture and scenery of Thailand, your 2016 travelling bucket list starts here.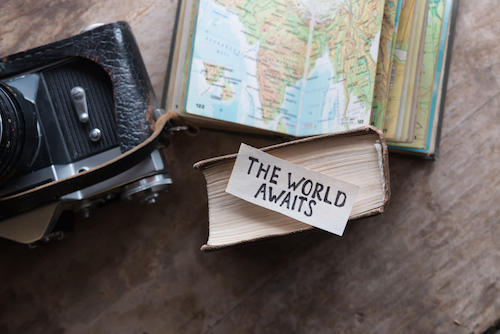 1) Mesmerising Mauritius
A quick flight across the Mozambique Channel and over the island of Madagascar will take you to one of the most beautiful beach paradise destinations on the planet. Mauritius, with its white sandy beaches, palm trees and crystal clear water, is the perfect place to unwind, and discover new things. The Island has incredible flora and fauna, as well as beautiful wildlife and hiking opportunities. If you prefer to laze on the beach with a cocktail, or spend the day in the water, you can scuba dive, snorkel, windsurf, Jet Ski, and so much more.
2) Dazzling Dubai
Dubai is an incredible city to visit for a holiday, and is an experience you won't soon forget. With its modern and record breaking architecture, world class theme parks, exceptional shopping, and beautiful desert scenery, the city really has it all. You can choose to lounge on the beaches of the Persian Gulf, ride a camel, explore the desert with a 4x4, go sand boarding, or visit the Burj Khalifa and palm islands.
3) It never gets late in New York
New York, with its tall skyscrapers, bright lights, many attractions, and lesser known gems is one of the best cities on the planet to visit for an unforgettable experience. The city never sleeps, so you can visit the statue of liberty, or the Chrysler building during the day, and sip a Starbucks coffee in central park before enjoying an evening's entertainment with a Broadway show, visiting Times Square, or looking for a secluded jazz club or roof top restaurant where late night revellers unwind into the early hours of the morning.
4) Amazing Amsterdam
The charming city of Amsterdam with its network of canals, road side cafés and beautiful streets lined with charismatic European architecture, is a sight worth seeing. The city comes alive in summer with people filling the bars, restaurants and cafés and there are a number of unique experiences awaiting any traveller to this fascinating city.
5) Tempting Thailand
Thailand is a destination of contrasts. Bangkok is a sprawling metropolis with technology, busy and bustling streets, loads of shopping, clubs, and easy to navigate public transport. You will see the contemporary living side by side with the traditional, as floating markets and temples are dwarfed by high-rise buildings. Moving out of the city, you can visit the fascinating and culturally significant mountain regions with its temples, and breath-taking scenery. Or visit the floating villages, beaches and islands which are some of the best in the world, and offer loads of opportunity to discover, unwind, and have loads of fun with a variety of water sports.
2016 could be your year to fulfil all of your travelling dreams, and we're here to make them happen. Discover the delights, attractions and splendour of these top bucket list destinations and speak to your Flight Centre Consultant today about making your travel dreams a reality.
Other Travel Articles You Might Like...