Europe island and beach holidays
Psarou Beach, Mykonos, Greece
Psarou Beach, located on the southern coast of Mykonos, is a renowned family-friendly beach with good facilities and water activities. As a bonus, the beach attracts celebrities from all over the world.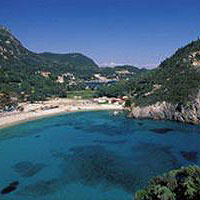 Psarou's long narrow beach of fine golden sand lies between two rocky headlands and is popular for sunlovers looking for some peace and quiet. However, if you do feel active then there's swimming in the clear azure water and a choice of water activities including windsurfing, waterskiing and scuba diving.
A bar offers sushi, sun loungers and comfy sofas and a regular bus service is available from Hora, just 5km away.
Highlight
A diving centre on Psarou Beach offers five-day certification programs as well as diving trips for more experienced divers. The sacred island of Delos is just a short boat ride away - perfect for a day trip.
About Mykonos
Mykonos is one of the most popular islands of the Cyclades and famous for its cosmopolitan (some would say hedonistic) atmosphere, exciting nightlife, picturesque white-washed houses and blue-domed churches, as well as numerous attractive long sandy beaches.
Mykonos highlights
Chora (Hora) - A typical Cycladic village of small white-washed houses decorated with colourful painted wooden doors, windows and balconies built along narrow winding streets alongside churches, chapels and purple bougainvilleas. Interspersed among the homes are numerous cafes, chic boutiques, souvenir and jewellery shops.
Kato Myli - The famous white-washed windmills, a trademark of Mykonos, stand on a hill overlooking the city. Climb up the hill to enjoy a magnificent view over Little Venice.
Mykonos pelicans - Following the death of Petros, the legendary Mascot of Mykonos, these friendly replacements are found anywhere in Hora and don't seem to mind the attention or being photographed.
Little Venice - A photogenic collection of two-storey Venetian-style houses with coloured wooden porches and balconies that dramatically overhang the sea. Many trendy cafes and bars are located here, making for a lively area during the evening. Sip a margarita or a glass of local wine and watch a sunset as waves crash just metres beneath you.
Church of Panagia Paraportiani - Probably the most photographed church in Mykonos, consisting of four tiny white-washed chapels. The main church dates from the 15th century.
Monastery of Panagia Tourliani - An impressive white-washed exterior with a blue dome and within its courtyard, a sculptured marble fountain and wood-carved temple from Florence. The monastery also houses a small religious museum, which exhibits various holy vestments, Byzantine icons and the first bells of the monastery's main church.
Greek cuisine - Take advantage of the local fresh produce, including olive oil, tasty kalamata olives, lamb dishes and a wide assortment of seafood including the popular calamari, as well as refreshing local wine and cheese.
Things to do
Mykonos is an ideal place for sunbathing and enjoying a wide range of watersports including swimming, windsurfing, water-skiing and parasailing, as well as banana boats, wakeboards, tubes and jet skis. Many of the major resorts also offer the usual range of activities including tennis, beach and pool volleyball and beach soccer.
Windsurfing - Unlike the sheltered southern beaches, Mykonos' northern coast is windy and offers great fun for windsurfers. Head to Kalafatis beach, home to some of Europe's biggest windsurfing contests and probably the best windsurfing school in Mykonos. Take a beginners, refresher or advanced technique course.
Walking - Stroll around the winding labyrinth of narrow streets in Hora. The best time is early morning when the centre is closed to traffic and the town quiet, as people head to the beaches or are sleeping-off the previous night's excesses.
Scuba diving - Mykonos is one of the few islands on the Aegean Sea where scuba diving is still permitted - diving is typically prohibited in Greece to protect undersea archaeological treasures from theft. The best month is September, when the water temperature averages 24°C, with visibility up to 30m. Equipment is available for rent.
Snorkelling - Rent a mask and flippers from your resort and snorkel above colourful wrasse swimming around the rocky headlands of your beach or join a group and head to Dragonisi Island, an uninhabited private island a few miles south-east of Mykonos. Snorkel over caverns inhabited by hundreds of glassfish and thousands of small yellow sea anemones.
Spas - Revitalise with a massage or beauty treatment from one of the many spa centres found in most of the major resorts.
Cruise - Join a leisurely cruise along the south coast of the island, sailing past all of the famous beaches, then spend a day on the isolated beach of Fraggia: swim in the crystal clear water, snorkel, play volley ball and beach soccer or simply relax and work on your tan.
Off-road safari - Experience the rugged side of Mykonos on a 150km off-road excursion around Mykonos' back roads. Discover isolated beaches, lighthouses and the old deserted mining town. Rent a moped or car to explore the remote areas of the island.
Best time to visit
To escape the summer crowds (especially August) visit during spring and autumn. The average summer temperature is 28°C but can reach the upper 30s. The climate of Mykonos is typically Mediterranean, with mild winters and hot, dry summers.
Shopping
Best buys are vegetable-dyed, hand-loomed weavings. Mykonos was once world-famous for these handicrafts but today only a few shops continue this tradition - browse Nikoletta (possibly the best) or the shops between Plateia Tria Pigadia and Plateia Laka, for a good selection of handwoven scarves, rugs and tablecloths. Mykonos is crowded with art galleries, jewellery and clothing shops, but beware, as many sell overpriced goods aimed solely at cruise ship day-trippers.
Other great beaches on Mykonos
The beaches of Mykonos are famous for golden sand, crystalline waters, fun and sun as well as for water sports and extreme partying. The most popular are located along the southern coast and during the peak summer season the most famous can get overcrowded. Those along the northern coast are less commercial and are better for peaceful sunbathing. Here's a selection of the best, from the busy to the secluded:
Paradise Beach - A good flat beach accessed by a footpath from Platis Yialos, by bus or by taxi-boat. Facilities include a number of popular bars with water sports facilities and a diving centre. This is a party beach with music by day and at night Paradise transforms into a huge club with loud music and people dancing on the sand and the rocks until dawn. Nudists also frequent this beach.
Super Paradise Beach - Located right next to Paradise Beach and accessible by taxi-boat, with beautiful crystalline waters and soft golden sand. Also known as an extreme party beach, with loud music day and night. Great for flirtatious singles but not recommended for families.
Kalafatis Beach - One of the most active beaches for water sports, with hire facilities ranging from snorkelling to diving, kayaking and windsurfing as well as jetskiing, banana boats, tubes and speedboats. Other facilities include a small minimarket and restaurant offering fresh fish and Greek cuisine.
Ornos Beach - Located in front of a small fishing village, Ornos is a beautiful beach of fine sand with sun beds and umbrellas for rent. Facilities include schools for diving, waterskiing and windsurfing as well as a huge hotel complex that offers various restaurants and bars but no beach activities.
Platis Gialos Beach - One of the most popular family beaches on Mykonos, with golden sand and turquoise waters and hotels that front the beach - you can walk straight down to the beach into the sea from the hotel rooms. Facilities include sun beds, umbrellas, water sports and numerous restaurants and bars.
Panormos Beach - A beautiful isolated sandy beach located on the northern coast of Mykonos, with golden sand forming low dunes in some parts, and crystalline waters. Easily accessible by private car or motorbike, Panormos is calmer than some other northern beaches and quiet, but with no facilities other than a large beach bar and a volleyball court.
Elia Beach - The longest sandy beach on Mykonos offers a wide choice of taverns and bars as well as water sports facilities such as waterskiing, parasailing and windsurfing. Elia is the last stop on the caique (a traditional fishing boat used as taxi boat) so it's more peaceful and quiet than some of the other beaches - probably why it's a favourite for nudists.
Lia Beach - A quiet and peaceful beach about 200m long and bordered on both sides by rocks. Facilities include sunbeds, umbrellas and a taverna, but no beach activities.
Recommended side trips
Plan a day trip with a cruise to one of the nearby islands, get in touch with Greek history by exploring the archaeological wonders of tiny Delos Island or sample the fine wine and cheese of fertile Naxos Island.
Delos - Discover the World Heritage-listed Delos, one of the most important archaeological sites in Greece. This tiny uninhabited island is the mythical birthplace of the twins Apollo and Artemis. Hike up the rocky Mount Kythnos to get a stunning view of the surrounding islands. Stroll around the magnificent Sanctuary of Apollo and the much-photographed Terrace of the Lions, featuring five crouching stone lions, guardians of the Sacred Lake. Don't miss the Archaeological Museum with its exhibits of archaic, Classical, Hellenistic and Roman sculptures, including the Archaic Sphinx of the Naxians and Acroteria from the Temple of the Athenians.
Naxos - Explore the great beaches, the mountainous interior and traditional villages. Naxos is the biggest island in the Cyclades, as well as the most fertile, and a great island to explore on foot as it has an ancient network of country pathways linking all the villages and churches.
Tinos - Take a ferry trip out to Tinos to see the Church of the Megalohari, which contains the icon of the Panagia Evangelistria, one of the most important pilgrimage sites of the Greek Orthodox Church.