Central and South America island and beach holidays
Copacabana Beach, Rio de Janeiro, Brazil
Known as the world's most famous beach, Copacabana's white sand beach runs for almost 5km in front of a lively nightlife district and residential suburb. The non-stop beach parade of scantily dressed beautiful bodies and smiling faces embodies the heart and soul of Rio's 'Cariocas' culture that thrives on sun, beach, dance, drink and sport.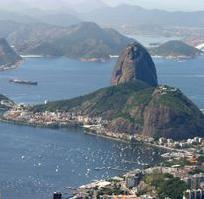 Crowded daily with friendly people, the wide beach often resembles more of a large sandy park than a beach, with full-size soccer pitches and volleyball courts situated between Avenida Atlantica and the sea. With something always going on during the day and along the sidewalks at night, the beach has a non-stop party atmosphere: from people checking out the scene, playing volleyball and soccer, to drinking, eating and singing.
The beach is divided into numbered 'postos' (lifeguard stations). Those opposite the luxury hotels have their own security guards to protect guests from petty crime. It's best not to flaunt watches, jewellery or cameras. The haunt of rich and poor alike, experienced locals typically come to the beach with only bathers, sunscreen and a wrap, which they can either sit or lie on, except for men who are suppose to sit on the hot sand.
Highlights
Watch Cariocas turn Cobacabana and Ipanema beaches into a huge sporting carnival with games of volleyball or footvollei (volleyball with no hands) and beach soccer that roll on throughout the day.
On the beach you can buy almost anything you want, from a skimpy bikini, towels, kangas (sarongs), hats, shades and suntan lotion to peanuts, beer and cookies as well as sticks of grilled shrimp, shelled coconuts and even deep-muscle massages.
Copacabana beach is home to Rio's famous New Year's celebration - dress in white as the locals do, for good luck.
One of the best shopping centres in Rio is just a short walk from the beach, as well as movie houses, theatres, fashion and jewellery shops, restaurants and nightclubs.
About Rio
Known as the cidade maravilhosa (the marvellous city), Rio occupies one of the most beautiful settings in the world. The Cristo Redentor (Christ the Redeemer) statue, named this year as one of the new Seven Wonders of the World, stands on top of Corcovado (Hunchback) peak, providing the famous focal point for Rio's skyline, dominated by Pão de Açúcar (Sugar Loaf Mountain) towering above the Baía de Guanabara.
Stroll around the narrow cobblestone streets of the historic downtown neighbourhoods of Centro, Lapa and Santa Teresa to discover grand plazas, gold-covered churches and buildings of the baroque, Beaux Arts and Art Deco styles.
Rio highlights
Pão de Açúcar - Take the cable car (every 30 minutes) to the breathtaking heights of Rio's Sugar Loaf Mountain, 396m above Rio and the Baía de Guanabara. Aim to be there at sunset and watch the city lights twinkle as day turns to night. Plan to go on a clear day, as cloudy days offer blocked views.
Corcovado - Ride the electrically powered train or take a taxi to the Corcovado (Hunchback) peak. Rising 709m above the Baía de Guanabara, Corcovado is known for its magnificent views over Rio and the famous 38m statue of Jesus, entitled Cristo Redentor (Christ the Redeemer), which stands atop the peak.
Parque Nacional da Tijuca - Take the 15-minute journey from the concrete jungle of Copacabana to the 120km2 tropical jungle of the Parque Nacional da Tijuca, a lush green forest with beautiful creeks and waterfalls, and home to many bird and animal species, including iguanas and monkeys. Don't miss the Alto da Boa Vista area, or several waterfalls including Cascatinha Taunay and Cascata Diamantina, the 19th-century chapel (Capela Mayrink) and numerous caves (Gruta LuÌs Fernandes, Gruta Belmiro and Gruta Paulo e VirgÌnia).
Avenida Atlantica - Stroll along the wide mosaic and beautifully landscaped pavement; stop for a cerveza (beer), relax, people-watch and enjoy the picture-postcard views.
Copacabana Palace - If it's beyond your budget to stay at Rio's most glamorous hotel, at least take an afternoon tea by the pool or perhaps a meal at the outstanding Cipriani restaurant. The hotel maintains its own staked-out area of the beach and provides guests with umbrellas, towels and bar service.
Forte de Copacabana - One of the best spots to take the classical photo of Copacabana Beach. Stroll uphill for photos of Arpoador Park, Ipanema and Leblon. Originally built around 1908 to protect the city from invaders, today Forte de Copacabana is a cultural centre.
Fishermen's corner - Beside Forte de Copacabana lies fishermen's corner. With a tradition of more than 100 years, fishermen still make a living right in the heart of one of Rio's most urban areas. Fresh fish are for sale at the stand every morning.
Lido - Wander around the landmark art-nouveau and neoclassical buildings. Many of these buildings have huge five bedroom apartments with only one bathroom and no garage, as parking on the street used to be the norm. Others are home to Lido's bustling nightlife with some of Rio's most famous strip clubs and bars.
Museu de Arte Moderna do Rio de Janeiro - A must for art lovers, containing Brazil's most important collection of modern art.
Museu do Õndio - One of Brazil's most important Indian heritage museums.
Things to do in and around Rio
Rio's stunning setting offers numerous activities for the energetic. For spectator sport enthusiats, take in an exciting game of soccer at Rio's Maracan stadium (for safety sit on the lower levels - closer to the ground is best).
Adventure sports - Combine a range of outdoor sports to take advantage of Rio's exciting geography, from rock climbing, rappelling and cycling, to rafting, ocean kayaking, scuba diving and surfing. Head out to Guaratiba, hike for an hour to a cliff overlooking a beach, then rappel down the 377m rock face or try a whitewater rafting trip with Class III (and sometimes Class IV) rapids.
Rock climbing - Rio is the centre of outdoor rock climbing in Brazil, with almost 350 climbs within an hour's drive of the city.
Trekking - Trek into the mountains or along the rugged coast around Rio. Explore the pristine Serra dos Órgãos National Park or the spectacular Itatiaia National Park, located about three hours from Rio and home to the highest peak in the state, the 2787m Agulhas Negras.
Biking - Hire a bike and discover Rio independently or on a guided tour - there are more than 74km of bike paths around the city. Cycle along the beaches of the Zona Sul and then through the tunnel to Urca and the Flamengo waterfront as far as the Museum of Modern Art (MAM).
Hiking - Discover the numerous hiking opportunities in Rio's national parks, the rainforest of Floresta da Tijuca and around Corcovado. Hike to Sugarloaf Mountain and at the same time try some rock climbing. Or head to Pedra Gávea for breathtaking views and choose between a swim in a waterfall or the ocean. It's best to go with a guide.
Kayaking - The Bay of Guanabara is perfect for kayaking. Take a guided tour and paddle around some of the small islands close to Praia Vermelha.
Surfing - Arpoador Beach, between Copacabana and Ipanema is popular, but for better breaks head to Barra-Meio at Barra de Tijuca or to Macumba-Pontal, a 2.5km beach with waves up to 3m. A surf bus departs the Largo do Machado at 7am, 10am, 1pm and 4pm and goes along Copacabana, Arpoador, São Conrado and Barra de Tijuca as far as Prainha. You can rent boards and there's a surf school in Ipanema that offers lessons.
Rio's other great beaches
Ipanema Beach
- Famous for the 60s song The Girl from Ipanema, written by Tom Jobim and Viní-cius de Morais, about a girl they saw on Ipanema Beach. Enjoy a caipirinha at the Velloso Bar on Rue Viní-cius de Morais, where the two wrote the unforgettable song. Stretching almost 3km from the foot of the Pedra Dois Irmãos to the Ponta Arpoador, Ipanema is regarded as more sophisticated and relaxed than nearby Copacabana. It has more of a family-friendly ambience, although there are also lots of young singles mingling about on the soft white sand. Expect to see lots of soccer and volleyball games on the beach - feel free to join in or simply watch.
Leblon Beach - Shares the beach with Ipanema - the border is the Jardim de Ala (Allah's Gardens). Leblon is one of the best areas to stay or live in Rio. Schools, movie theatres and theatres, nightclubs, concert halls and some of Rio's best restaurants and bars are among its attractions.
São Conrado Beach - Offers some fine scenery, a degree of isolation and a landing strip for the hang-gliders who leap from the nearby peaks.
Barra de Tijuca - For surfers, this is said to be the best in Rio, particularly around the Barraca de Pepe (Pepe's Shack). Beyond Barra lies Grumari, a lovely small beach set in a lush nature reserve.
Best time to visit
The best time to visit Rio is between May and August, when the sky is clear, the beaches are cooled by trade winds and the average temperature hovers around 28°C with a high of 35°C. Summer, between December and March, is wet and humid with temperatures ranging from 25°C to 40°C. Winter temperatures average 23°C with a high of 30°C, but can drop to 15°C at night in July. Rio's high season runs from December to March and is especially busy around Carnaval and New Year when the city is in full party mode.
Shopping
Rio offers endless malls, boutiques, bookstores, music shops and antique markets. Try the Hippie Fair near Ipanema Beach on Sundays for the best from local artists. Look out for Brazilian musical instruments and the Brazilian Naif paintings (primitive art). Browse the crafts markets for souvenirs or for upmarket shopping visit the Rio Sul mall or the sophisticated boutiques in Rio's chic Ipanema.
Did you know?
Topless bathing on Rio's beaches is a big no-no - and is actually illegal. Postos (lifeguard stations) along Copacabana and Ipanema beaches are open daily from 8am to 8pm. They offer first-aid, changing and toilet facilities for a charge of BR1. Postos, numbered 1 through 11, start at Leme Beach and end in Leblon Beach.
Recommended side trips
Angra dos Reis - Angra dos Reis [Kings' Cove] is the best beach and one of the most untouched beauty spots in the country. It is located on the Costa Verde, on the 280km scenic coastline between Rio and Sao Paulo, where the ocean is fringed with tropical forest, golden sandy beaches and small fishing villages are the norm.
Búzios - A beach haven north of Rio for Rio socialites.
Petrópolis - A pretty mountain resort just an hour from Rio. Enjoy peaceful strolls, great museums and mountain hikes in the lush Atlantic rainforest.
Paraty - Situated almost halfway between Rio and São Paulo, this World Heritage site is a beautiful and historic seaside town that had its heyday in the 18th and 19th centuries. Meander around the cobblestone streets, admire the architecture and choose from numerous restaurants for some very fine dining experiences.
South and Central America flights
»
Ask us for more information
South and Central America tours
»
Ask us for more information
South and Central America holidays
»
Ask us for more information
South and Central America hotels
»
Ask us for more information