Thailand island and beach holidays
Kata Beach and Phuket
Located on Phuket's western coast, Kata Beach is one of Phuket's finest beaches due to its natural beauty, lots of beach activities and good facilities, making it perfect for families.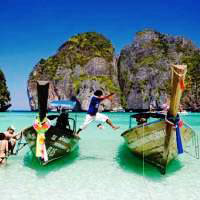 On a broad curve of soft white sand, which runs for 1.5km along a protected bay of calm, crystal-clear water, there's room to relax on a sunbed or rejuvenate with a Thai massage in the shade of the palm trees that fringe the beach's edge. A small picturesque island in the bay, called Poo Island, adds to the pretty setting.
Amenities such as toilets, shops, outdoor cafes and restaurants that serve seafood, Thai and European dishes at reasonable prices, lie easily accessible at the southern end of the beach.
During the day you can choose from water activities including sailing, windsurfing, jetskiing and parasailing, while in the evening you can enjoy Kata's village-like atmosphere over a tasty Thai meal or your favourite cocktail at one of the cute open-air bars or restaurants.
Highlights
Kata Noi Beach - Separated from Kata by a headland, this small bay of stunning white sand is a quiet and peaceful retreat that makes a nice place for a relaxing snorkel or swim.
Surfers shouldn't miss the annual Phuket Surfing Contest held in September during the wet season when the waves are large. Later in the year when the waters become calm, Kata Bay is home to yachts competing in the King's Cup Regatta, Asia's premier sailing event, held every December.
About Phuket
The top beach resort island in Thailand is renowned for numerous stunning beaches stretching along its western shore. Most offer accommodation close to the beach to suit all budgets, with amenities and many entertainment options, while others are hidden away between secluded coves with often the only access a jungle pathway winding down from the winding coastal road.
Phuket highlights
Thalang National Museum - Discover Phuket's indigenous arts and crafts.
Wat Chalong - Phuket's most famous Buddhist temple and the centre of Buddhist worship located at Chalong, Phuket's first resort, about 8km south of Phuket Town.
Ko Sireh Island - Take a tour to see the fascinating floating villages of chao leh (sea gypsies), considered the indigenous people of Phuket, located on this tiny island and at Rawai Beach just south of Chalong Bay.
Scuba diving and snorkelling - Just 100km north of Phuket, in the Andaman Sea, lies the Similans and Surins with some of the best diving and snorkeling in the world. Visibility is often 30m with an abundance of marine life, from rays, sharks and sea turtles to colourful fish as well as intact soft and hard coral formations.
Sirinat National Park - Take a guided hike along marked tracks through a pristine landscape, including an uninterrupted 13km stretch of beach and extensive mangrove forests. Spot various species of birds, from Brahminy kites to white-bellied sea-eagles. Sirinat is also a breeding ground for a variety of sea turtles.
Hat Nai Yang National Park - A protected area in the north-west corner of the island that offers Phuket's largest coral reef in shallow water, only 1400m from the shore, and the nesting site for giant leatherback turtles that come to nest annually between November and February.
Gibbon Rehabilitation Project - Check out these playful monkeys at this rehabilitation site where abused 'bar' monkeys are cared for in more natural surroundings.
The Butterfly Garden and Aquarium - Discover hundreds of beautiful butterflies in a large enclosed garden.
Phuket Shell Museum - Visit the largest shell museum in the world.
Things to do
Snorkelling - Some of the best snorkelling in Phuket can be found at shallow reefs at the northern and southern end of Kata beach just 150m from shore. Look out for wrasse, bannerfish, parrotfish and trigger fish. If you are lucky you may spot a sea turtle, but watch out for the perfectly camouflaged poison stonefish that also inhabit the reef.
Surfing - The south end of Kata beach offers the best surfing in Phuket. Closer to shore the waves are perfect for beginners. Boards are available for rent and beginners can get some tips from the local surf school.
Beach soccer - Join in - there's usually a game around 4:30pm at the south end of Kata beach.
Beach volleyball - Usually around 4:30pm at the nets halfway along the beach.
Jogging - The beach provides a stunning setting for a leisurely jog, particularly at sunset.
Trekking - Experience the wild side of Phuket's interior with a guided trek through the rainforest of the Khao Phra Thaew National Park.
Elephant trekking - While elephants are not indigenous to Phuket, this can be a real adventure for children as well as a fun way for you to see the local countryside.
Spas - Phuket offers some of the world's best spa facilities. For luxury treatments visit The Spa at the award-winning Banyan Tree Phuket resort: choose from a variety of massage, body and facial treatments or health and beauty programs. Elsewhere you will find numerous parlours offering many revitalising treatments.
Other great beaches on Phuket
Phuket has so many great beaches. Here's a selection of the best, from the popular to the secluded:
Hat Mai Khao - An 8km beach of white sand rimmed with pines in Sirinat Marine National Park.
Hat Nai Yang - One of the most isolated beaches in Phuket, with fantastic snorkelling, located within the wildlife preserve at Sirinat Marine National Park.
Patong Beach - Famous - some would say infamous. With a wide variety of activities and a bustling nightlife, Patong is the ideal place to party.
Karon Beach - Features a long stretch of pristine white sand. Less hectic than Patong, the beach still offers a full range of facilities, dining and activities.
Surin Beach - Known as 'Millionaires Row' due to the luxury resorts based there, as well as the million dollar homes that sit atop hills overlooking the Andaman Sea.
Pansea Beach - A tiny cove of glittering white sand accessible only to guests of The Chedi and Amanpuri resorts.
Laem Singh Beach - A small hidden gem south of Surin, accessible only by a steep path from the road. You'll find a few unassuming restaurants offering cold drinks and food.
Nai Thon Beach - Rent a car or take a taxi to one of Phuket's best-kept secrets. A short drive through forested hills along the coastal highway brings you to this quiet beach of silky white sand.
Nai Harn Beach - With most of its beachfront land occupied by a temple, the soft sands and clear waters make Nai Harn an ideal swimming, snorkelling and sunbathing spot during the dry season.
Ao Sane Beach - Sometimes called 'Jungle Beach', this quiet and peaceful beach is reached down a dirt road through the car park of Le Royal Meridien Phuket Yacht Club in Nai Harn.
Paradise Beach - A stunningly beautiful beach, 150m long, with year-round safe swimming, linked to another small beach by a path through the rocks.
Laem Ka Beach - This sheltered, 150m long, boulder-framed beach is the only eastern-facing beach in southern Phuket that offers good swimming. It's an ideal picnic spot as from midday it's shady and cool. Popular with local Thais on a Sunday afternoon.
Best time to visit
The best time to visit is during the dry season from December to April when the skies around Phuket are clear and sunny and the sea warm and calm. From May onwards the rains arrive and the water becomes cloudy and often rough. The average temperature throughout the year remains a consistent 30°C. Snorkelling, sunbathing and water sports are best between November and April, while surfing is better from May to October.
Shopping
Head to Patong Beach, the centre of handicraft and souvenir shopping in Phuket. Best buys are silver handicrafts from the northern hilltribes, but be prepared to bargain to get the right price. Browse the numerous shops for leather, jewellery and clothes. Don't miss the Day Market, a bustling market that traces its history back to the days when pirates, Indians, Chinese, Malays and Europeans traded in Phuket.
Don't miss
Phuket's most important occasion, the Vegetarian Festival, which dates back to 1825 and usually takes place during late September or October. Expect great food, lots of events and noisy fireworks.
Recommended side trips
Take a day trip or stay longer to explore the scenic provinces of Phang Nga or Krabi. Both offer magical scenery of limestone cliffs, rock formations, caves and fishing hamlets as well as national parks and lovely beaches with great opportunities for rock climbing, diving, snorkelling and sailing on the Andaman Sea.
Krabi Province - Home to some of Thailand's best mainland beaches, particularly at Hat Nopparat Thara, Ao Nang and Hat Tham Phra Nang. This whole area, dotted with caverns and mystical shrines, provides excellent rock climbing, diving, snorkelling and sailing.
Phang Nga Bay - The spectacular Phang Nga Bay is dotted with thousands of islands and caves, mostly uninhabited and protected as part of the National Marine Park. Join a sea canoe tour from Phuket or from the mainland. Discover secluded bays, go ashore with a guide and explore the beach, mangrove forests and the many hidden caves and lakes hollowed out inside the islands - usually reachable only at low tide through small caves that open onto the sea.
Lam Ru Park - Explore inland forest, with waterfalls, mountains and other natural wonders located on the Phang Nga mainland. Look out for eagles and scarlet minivets.
Phi Phi Islands - The idyllic twin islands lie an easy boat trip away from either Phuket or the mainland at Krabi. The dumbbell-shaped Ko Phi Phi Don is fringed with white sandy beaches, rugged rock cliffs and tropical rainforest. It offers several fine restaurants, bars and coffee shops. Neighbouring Ko Phi Phi Leh is less commercialised and makes a perfect day trip (as there is no accommodation on the island). Don't miss the famous Viking Cave on Phi Phi Leh, where men climb flimsy bamboo scaffolds to collect swifts' nests from the cavern walls, or the prehistoric paintings on the cave walls. Both islands offer great opportunities for climbing, kayaking, swimming and caving as well as diving, snorkelling and fishing, in a setting of unparalleled beauty.
Did you know?
Phi Phi Island is so astoundingly beautiful it was chosen as the setting for The Beach, starring Leonardo DiCaprio.