Your guide to airlines
« Back to international airlines
Swiss International Air Lines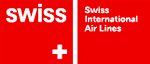 Swiss International Air Lines (SWISS) serves 73 destinations in 39 countries all over the world (as of summer 2010) from its Zurich hub and the further Swiss international airports of Basel and Geneva with a fleet* of 85 aircrafts. Switzerland's airline embodies typical Swiss values such as hospitality, quality in every detail and personal care: SWISS aims to make all its customers feel totally at home.
In conjunction with a number of quality partner airlines, SWISS offers daily connections to Europe via Hong Kong, Bangkok and other points in Asia. SWISS also offers attractive fares to Europe via the Americas and South Africa thus providing a range of attractive stopover options to Leisure and Business travellers aloke.
First class
Seating
SWISS First class seats are the ultimate in travel comfort and feature the Swiss innovative air cushion teachnolgy. By 2011, SWISS will probably be the only airline worldwide to offer First Class on every long-haul flight. In sleeping position, the bed is over 2 metres long and comes complete with a down duvet and pillow. Sleepwear and designer brand amenities are part of the service.
Dining
Award winning menus tailored to the discerning tastes of our First Class customers are served to their convenience together with the highest quality of Champagne, wines and spirits. SWISS Taste of Switzerland, the Mercury Award-winning culinary concept features a different culinary region and local products in seasonal cycles of three months menus created by some of the country's most esteemed chefs. The Ottoman, a large guest seat with its own backrest and armrests, enables the customer to dine with a companion or work with a business colleague (fellow First Class traveller).
Entertainment
Large screens, entertainment on demand and a wide range of programs are standard. The inflight entertainment system will be further enhanced with the refit of the new First Class seat worldwide.
Business class
Seating
SWISS has beds in business class. The A330 fleet has been fitted with brand new state-of-the-art seats that feature air cushion technology allowing passengers to adjust the firmness/softness of the seat which reclines to a fully flat 180 degrees. The A340 fleet is also being refitted with the new product and the entire long-haul fleet will have the new business class beds by 2010. On the far east, Hong Kong will be refitted by October 2010.
Dining
Flexible service with a distinctly Swiss touch featuring the cuisines of the different regions in Switzerland.
Entertainment
Movies on demand. Choose from a large selection of music, films, games and information channels. Together with the refit of the new business class seats, the entertainment system will be upgraded to larger 30.7 cm high resolution screens with USB and iPod plugs.
Economy class
Seating
Ergonomically enhanced seat for comfortable sitting experience
Dining
On each long-haul flight, you can choose between a meat and vegetarian dish. You can order a children's menu as a surprise for young travelers. Special diet meals are also available on prior request.
Entertainment
Every long-haul SWISS flight has individual screens with video on demand and a wide choice of programs.
Clubs, lounges & alliances
Clubs
Miles & More members earn miles when flying with any of the Star Alliance airline partners, as well as hundreds of partners on the ground, which may be redeemed for flight or non-flight rewards.
Lounges
SWISS First and Business Class lounges in Zurich and Geneva feature a combination of relaxed luxury and efficiency. We have a limousine service for First class passengers transiting Zurich integrated with the lounge service. We also feature an arrival lounge free for First and Business Class passengers. Accessible shortly after baggage collection belts, it offers guests the opportunity to shower, relax and re-energise for the day.
Alliances
SWISS is a member of the world leading STAR Alliance.