Your Guide to Airlines
» Back to international airlines
Jetstar Airlines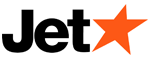 Jetstar is a value-based airline committed to offering low fares, all day, every day. A wholly owned subsidiary of Qantas, Jetstar now has a fleet of 24 A320 aircraft flying from Auckland and Christchurch to destinations in New Zealand, Australia, Asia and the Pacific. Domestic Jetstar flights now also run from Wellington and Queenstown.
Jetstar's Pacific and intra-Asia services are operated by a fleet of Airbus A320-200 aircraft with one Economy class cabin, seating up to 180 passengers. International long-haul services from Jetstar are operated by a fleet of Airbus A330-200 aircraft, configured into two cabins - StarClass and Economy - each with a total capacity of 303 passengers and with leather seating in both cabins.
Jetstar Star class
Seating
Jetstar StarClass passengers on international longhaul flights enjoy a seat pitch of 38 inches. The seats also have adjustable lumbar support and headrests with wings on the side to ensure you rest comfortably.
Dining
Enjoy unlimited beverages and snack bar, as well as all meals, included as part of the StarClass personalised service.
Entertainment
After take off, StarClass passengers are offered an Audio-Video On-Demand (AVOD) unit with headset. Each unit is programmed with a range of movies, TV programs, music videos and children's programs.
Jetstar StarClass passengers can also use their noise-cancelling headsets to listen to the onboard audio channels and entertainment on in-cabin drop down screens.
Jetstar Economy class
Seating
Economy Class seats on Jetstar each have a 31 inch seat pitch. Each seat also has adjustable wings in the head-rest for additional comfort.
Dining
Passengers can pre-select and pay to have meals included during their flight when they make their booking or they can purchase from a range of meal, snack and beverage items once onboard.
Entertainment
Jetstar economy passengers can pre-order or rent onboard Audio-Video On-Demand (AVOD) units. Alternatively, passengers can purchase headsets to listen to nine channels of audio entertainment plus movies and TV programs shown on the in-cabin drop down screens.
Clubs, lounges & alliances
Clubs
If you are a Qantas frequent flyer member and a Jetstar StarClass passenger, you can earn Qantas frequent flyer points at Business Class rates.
Lounges
All StarClass passengers have access to the Qantas Club (where available), or an associated business lounge, at the airport they are departing from.
Alliances
Jetstar is a subsidiary of Qantas.
The last word
Jetstar is committed to offering travellers a combination of award-winning service and everyday low fares, which means more New Zealanders can travel more often.
Jetstar Related Searches: jet star airways, jet stars, jet star airlines, jet star airline, domestic jetstar flights, jetstar australia, international jetstar flights
»
Back to top