Your guide to airlines
« Back to international airlines
Cathay Pacific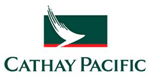 Cathay Pacific has been among the world's elite airlines for several decades and is famous for service straight from the heart, as well as being fiercely proud of a reputation for uncompromising excellence. People make all the difference in your travel experience.
Based in Hong Kong, the very heart of Asia, and with over 100 widebody aircraft, Cathay Pacific Airways offer a non-stop service from Auckland to Hong Kong and from there on to over 120 destinations worldwide*.
*includes flights with sister airline Dragonair
Go to
Business class
Wouldn't it be nice to get away from it all and leave your cares behind?  In the cosy surroundings of our business class seat, you can, with exceptional comfort and enhanced privacy.
Seating
Your fully adjustable, very comfortable seat with drop-down armrests has a new massage function and an ottoman so a friend can stop by for a chat.  But when the visit is over and it's time for sleep, all it takes is one touch to turn your comfortable seat into a fully flat, supremely comfy bed that's 78 inches long.  Privacy partitions ensure sweet dreams in a very cosy environment indeed.
Dining
Indulge yourself with our superb Asian and Western menu, served as individual courses and accompanied by award-winning wines complemented with the Asian Hospitality that has always made flying with Cathay Pacific a memorable experience.
Entertainment
Tune into Studiocx on your 15 inch widescreen TV with Audio and Video on Demand, offering a rotating library of 100 movies, 350 TV shows, 888 music CDs, 22  radio channels, and entertainment programmes in nine languages.
Economy class
When we upgraded our cabins we turned to the people who fly them.  The result is a new level of personal space, individual privacy and attention to those all-important details.  Because at Cathay Pacific, your needs always come first.
Seating
You'll be happy as a clam in your 32 inch shell seat.  Why?  Because no one will recline into your salad or onto your computer again - they're in their own shell that doesn't move whether you're sitting upright or sleeping, so everyone has a protected personal space.
Dining
At mealtimes you can choose from a selection of Asian or Western meals and incase you should still be hungry, you'll find our galleys stocked full with a variety of tasty treats available throughout the flight.
Entertainment
Once in the sky, you can sit back and enjoy your 9 inch widescreen TV with Studiocx - featuring a rotating library of 100 movies 350 TV shows, 888 music CDs, 22 radio channels, and entertainment programmes in nine languages.
Clubs, lounges & alliances
Clubs
Cathay Pacific's Marco Polo Club rewards members by offering benefits such as worldwide lounge access, preferred check-in, priority waitlisting and guaranteed seats. Some privileges also extend to oneworld alliance airlines.
Lounges
Cathay Pacific provides lounges around the world, including two award-winning lounges at Hong Kong international airport, offering First and Business Class passengers and members of the Marco Polo Club unparalleled levels of comfort and convenience. Cathay Pacific shares the Qantas lounge in Auckland.
Alliances
Cathay Pacific is a member of the oneworld alliance.
The last word
We look forward to welcoming you on board and showing you what our service straight from the heart is all about.
»
Back to top