Your guide to airlines
« Back to international airlines
Air New Zealand Airlines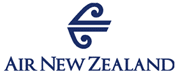 Air New Zealand is the national flag carrier of Australia, offering both domestic and international services to and from key travel hubs around New Zealand. Air New Zealand's services reflect the inspiring uniqueness of the country through its cuisine, its interiors, its entertainment and its staff.
Air New Zealand is recognised as one of the world's leading airlines and has been named 2010 Airline of the Year in the prestigious Air Transport World magazine awards.
A variety of aircraft make up Air New Zealand's combined fleet, ranging from the Beech 1900D which can accommodate 19 passengers, to the Boeing 747-400 which accommodates 379 passengers.
Air New Zealand is part of the Star Alliance network, which together offers more than 21,050 daily flights to 1,167 destinations, and it runs the 'Airpoints' loyalty program to reward its customers for flying Air New Zealand.
Air New Zealand domestic services run hundreds of flights within New Zealand each day. Passengers can 'grab a seat' with Air New Zealand to 26 different destinations around the country. With Flight Centre you can book your Air New Zealand flights and know that if you happen to find a cheaper available price, we'll beat it*.
Air New Zealand's international services fly to over 55 destinations worldwide, including Sydney, Melbourne, Rarotonga, Fiji, London, Los Angeles, Vancouver, Hong Kong, and many more destinations throughout Australia, the Pacific Islands, Europe, North America, and Asia. Air New Zealand's Business Premier, Premium Economy and Economy classes of travel set a new standard in long-haul comfort, convenience and style. The following services are available on 747 and 777 aircraft.
Go to
Business premier class
To really enjoy any long-haul flight, a good night's sleep is a must. That's why Air New Zealand has introduced the most comfortable, lie-flat bed for its Business Premier cabin, along with a number of other luxuries.
Entertainment
A great selection of Audio-Video On-Demand (AVOD) entertainment is available with something for everyone, and an in-seat remote control means you can easily direct the action. Your very own 10.4 inch, high resolution screen gives perfect picture clarity while active noise-cancellation ensures crystal-clear sound quality.
Seating
The ample leather armchair converts to a fully flat 6 feet 7.5 inch bed with an ottoman footstool, which doubles as a seat for visitors. Each seat has easy access to the aisle, and the unique design of the in-bed mode features a separate mattress surface for maximum comfort.
A luxurious duvet, large cotton pillow and sleep sheet provide a home-like sleep experience, while the Business Premier bathrooms boast enhanced interiors, and a luxurious range of Pacifica skincare products for a more enjoyable flight.
Dining
Business Premier boasts a fresh in-flight menu developed by a team of consultant chefs. Each item on the menu has been carefully constructed to showcase New Zealand's best natural produce and to reflect our rich cultural and culinary landscape. The in-flight wine selection comes from all over New Zealand, to ensure a representation of styles for each passenger.
Pacific premium economy class
Premium Economy is an exclusive class of travel that sits between Business Premier and Economy, offering the traveller more space and more luxury than Economy Class.
Entertainment
Premium Economy Class seats each have their own high-resolution 8.4 inch entertainment screen allowing the passenger to watch what they want when they want with the state-of-the-art Audio-Video On-Demand (AVOD) system.
Blockbuster movies, TV programs and a unique New Zealand selection of programs are available, along with a selection of music, information and the latest games.
Seating
The 38-40 inch seat pitch, as well as 50 per cent more seat recline than in Economy, makes seating in Premium Economy Class an absolute pleasure. Complete with full legrest and foot bar, these seats can make all the difference on a long flight. In-seat power is available which accepts most common plugs.
Dining
Air New Zealand's consultant chefs have designed a range of meals for Premium Economy passengers. Each menu reflects a flair for using New Zealand food to create unique meals. The Business Premier Class wine list is also available.
Economy class
Economy Class travel doesn't have to mean being economical on space or service.
Entertainment
In Economy Class you will still enjoy your very own 8.4 inch screen and in-seat remote, allowing you to pick what you watch and when. Options include TV shows, movies and a range of single player games to keep the gamers occupied, young or old.
A unique New Zealand selection showcases the best the country has to offer, whilst kids will enjoy the selection dedicated to them. Air New Zealand's specially designed kids packs will also go down well with the young ones.
Seating
Air New Zealand's Economy cabins and seats are designed to make long-haul international travel a more enjoyable experience. Economy Class offers a generous 34 inch seat pitch on all 747 and 32 inch seat pitch on all 777 aircraft. Additionally, the seat recline provides better personal space while the new ergonomic design provides comfort in any seating position.
Dining
The food and drink in Economy Class is innovative and contemporary, with an emphasis on New Zealand flavours. For those with special dietary needs, special meal options are also available. Passengers can also choose from a wide selection of complimentary beverages, including fantastic New Zealand wines, with their meals.
Clubs & lounges
Air New Zealand's Koru Club offers members many benefits and privileges, from access to exclusive lounges, to priority reservations, to special check-in facilities and preferred seating allocation. Koru Club lounges often offer complimentary food, beverages and use of business meeting areas and facilities.
In-flight Concierges
In 2008 Air New Zealand revolutionised its long-haul travel experience with the introduction of the in-flight International Airline Concierge service. This new service is all about making every customer's journey before, during and after an Air New Zealand flight a special event.
Related Searches: Air New Zealand, airnewzealand, Air NZ, airnz, www.airnewzealand.co.nz, Air New Zealand Grab a Seat, grabaseat, Air New Zealand flights, www.airnewzealand.com, airnewzealand.co.nz, airnewzealand.com
»
Back to top